Try a relaxing spa staycay too
PARTNER CONTENT: As summer approaches, the idea of taking a relaxing break becomes increasingly appealing.
With travel restrictions still in place for some destinations, staycations have become a popular alternative. Fortunately for all of us, Conrad Abu Dhabi Etihad Towers has the perfect staycation packages for those seeking a luxurious break from the mundane.
Whether you are looking for a brunch-themed getaway or a spa-centric escape, this is the perfect place in the UAE capital to rest and revive.
Brunch staycay
Conrad Abu Dhabi Etihad Towers' Brunch Staycation is the ultimate indulgence for foodies looking to savour a lavish getaway.
From the moment guests arrive, they are treated to spectacular views (of the city or ocean!) from their superior guestroom, providing the perfect backdrop for relaxation.
Unlimited access to the hotel's private golden beach and tranquil pools offers a refreshing respite from the summer heat. But the real highlight of the stay is access to the 'Pardon my Brunch' experience, featuring a British-themed affair with live music by the poolside.
Guests can also take advantage of discounted food and drink at any of the hotel's award-winning restaurants and bars.
And for those in need of a little pampering, what better than some discounted treatments at the Conrad Spa? With flexible check-in and departure times, guests can prolong the experience and enjoy the ultimate laid-back staycation.
With rates starting from AED 1,100, the Brunch Staycation package includes a superior guestroom for two, breakfast and house beverage brunch in Nahaam for two, and pool and beach access.
Relaxing spa staycay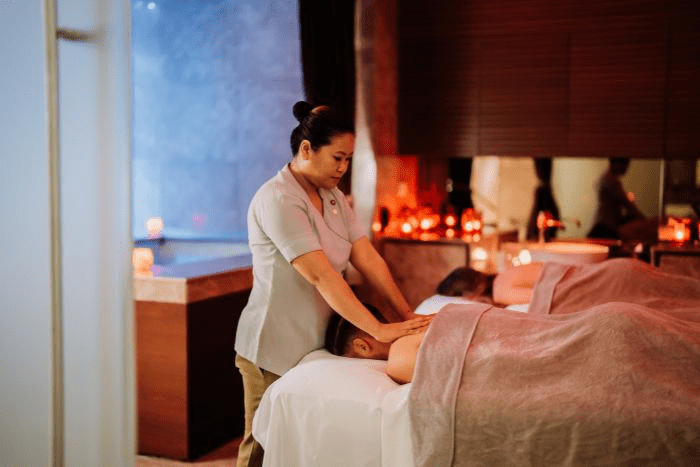 Seeking a rejuvenating escape?
The Relaxing Spa Staycation package is the ultimate remedy. Upon arrival, guests are greeted with a bright, airy deluxe guestroom, the perfect retreat after a day of pampering at the Conrad Spa.
In addition to a complimentary 60-minute spa treatment for two, staycation guests also receive a 20 per cent discount on further treatments.
The Conrad Spa boasts experienced therapists who take a holistic approach to health and wellness, recommending the most suitable treatments and products for guests' skin and health needs. From detoxifying Rasul mud chambers to warm hammam treatment suites, guests can choose from a range of traditional techniques designed to invigorate and revitalise.
A full-body massage is sure to provide the ultimate state of physical and mental relaxation, while bespoke facial and body wraps leave the skin looking dewy and glowing.
To nourish the body and soul, guests can enjoy healthy and hearty breakfast options at the Rosewater Restaurant, served against the backdrop of the sparkling Gulf.
After a day of therapeutic recuperation at the spa, the hotel's range of tantalising global restaurants and bars offer a variety of light, fresh dishes and mocktails.
With all of this included in the package, there is no excuse to avoid seizing the day!
For more information and bookings, call 02 811 5555 
Follow Yalla – Abu Dhabi Life for all the latest news across the capital and beyond
Image source Conrad Abu Dhabi Etihad Towers