Check out these boredom busting activities for kids in the emirate.
Abu Dhabi has developed a reputation as a superb place to raise a family and with a wonderful array of brilliant kids things to do, it is easy to see why.
Whether your child loves to be active, pick up a book, learn new information or simply likes doing kids stuff, the emirate is packed full of activities for your little ones to enjoy.
Here is the ultimate guide to the best kids things to do in Abu Dhabi.
FUN KIDS THINGS TO DO IN ABU DHABI
AIRMANIAX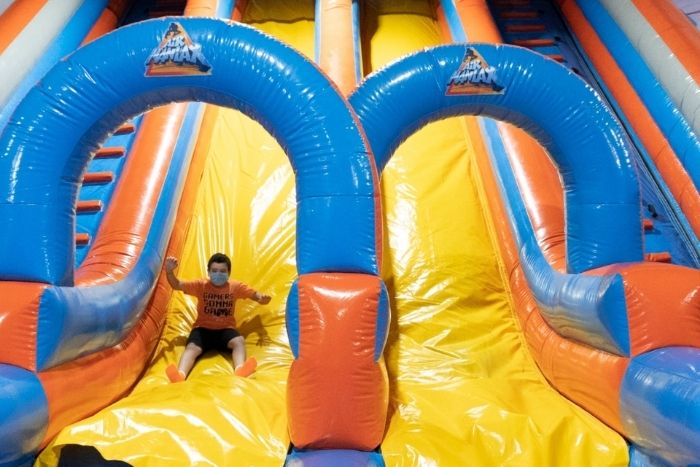 Fuelling the excitement levels of kids, this 30,000 square foot arena is one of spots where boredom does not exist. Located in Marina Mall, you will definitely need a sit down after a session at this facility that is packed with pulse-pounding obstacle courses, thrilling sides, inflatable sports arena and more. Great for birthdays and special occasions, this kids' thing to do in Abu Dhabi is where you can have all your cake and eat it. For more information visit airmaniax.com
BOUNCE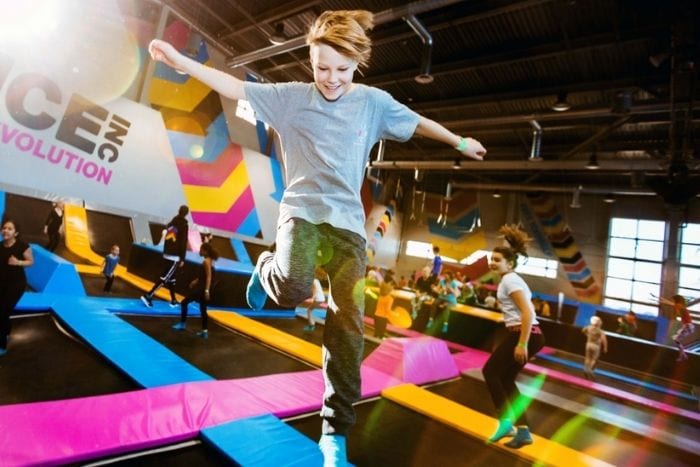 A place to put a pep in your step, BOUNCE in Marina Mall will send you and your mood soaring as you flip, tumble and fall on its trampolines and challenge runs. There are even dodgeball matches should you feel the need for some competition at one of the best kids' things to do in Abu Dhabi. For more information visit bounce.ae
CLYMB ABU DHABI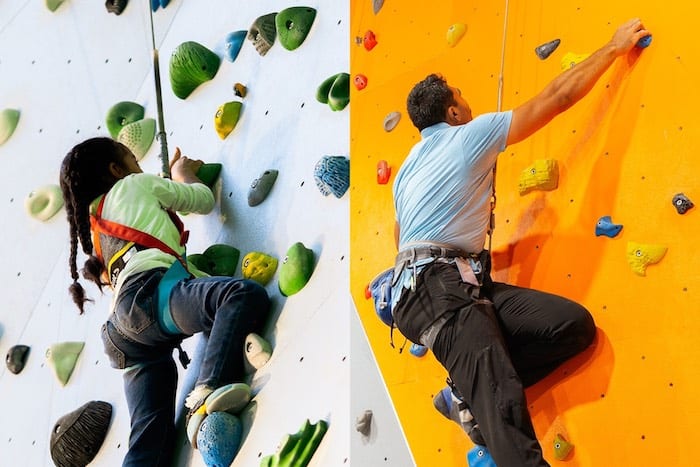 If the kids are climbing the wall looking for something to do, sweep them off their feet with an adventure at CLYMB Abu Dhabi. One of the best kids' things to do in Abu Dhabi, leave terra firma in the world's largest indoor flight chamber or reach for the roof on the region's highest rock-climbing wall. For more information visit clymbabudhabi.ae
PRISON ISLAND: BEAT THE BARS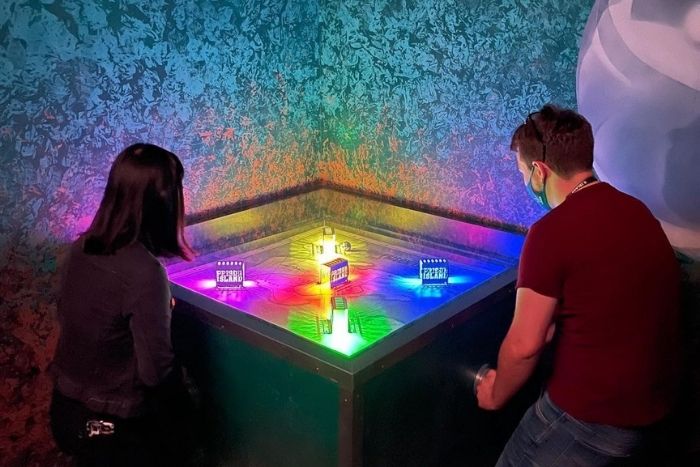 Set over 1,000 square feet, this adventure zone promises to give you a proper mental and physical work out. Prison Island: Beat The Bars sees you tackle mathematical conundrums, dangle above shark-infested waters and even get stuck into a riot as you take 26 heart-stopping challenges. Great for team bonding, beating the bars is one of the best kids' things to do in Abu Dhabi. For more information visit prisonisland.ae
XTREME ZONE
If mum and dad are in need of some time away from the little bundles of energy, then Xtreme Zone on level three of Abu Dhabi Mall has a café where you can grab a coffee while the kids entertain themselves on a range of fun activities such as arcade games, trampoline park and challenging climbing walls. For more information visit xtremezone.com
THRILLING KIDS THINGS TO DO IN ABU DHABI
FERRARI WORLD ABU DHABI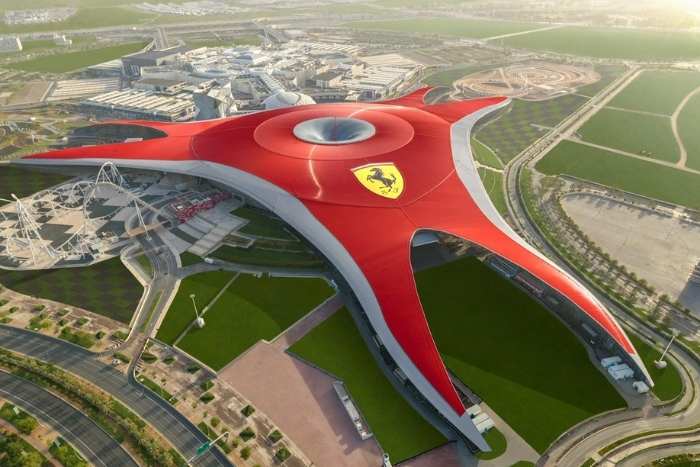 Prepare for the ride of your life at Ferrari World Abu Dhabi as the world-famous car manufacturer lends its name to the fastest roller coaster ride on the planet; Formula Rossa; that hits speeds of up to 240km/h. Once you have recovered, increase the adrenaline levels once again with the Flying Aces and Turbo Track rides at one of the best kids' things to do in Abu Dhabi. For more information visit ferrariworldabudhabi.com
VELOCITY
We're putting ourselves in a spin with the next best kids' things to do in Abu Dhabi at the World Trade Center Mall. From a height of 68 metres (the tallest indoor slide in the Middle East), sliders zoom down Velocity at three metres per second, experiencing twists, turns and thrills while enjoying one of the best views of malls thanks to the entire slide being see-through. For more information visit wtcad.ae
WARNER BROS. WORLD ABU DHABI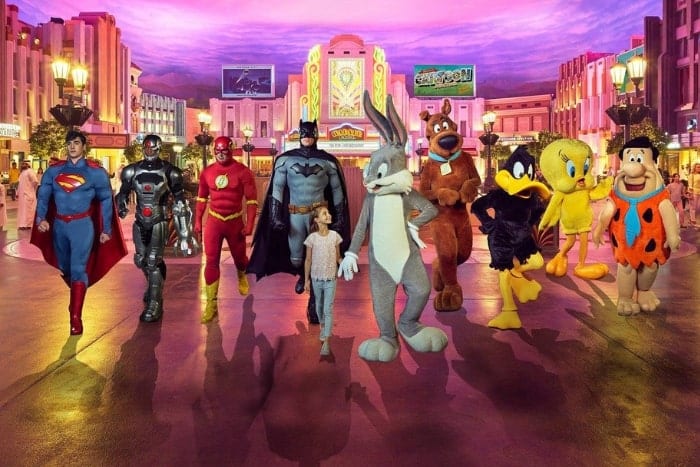 One of the most popular family spots in the whole emirate – Warner Bros. World Abu Dhabi. Packed with more than 30 electrifying rides, the world's largest indoor theme park will see little ones get the opportunity to meet some legends of the cartoon screen like Tom and Jerry, Batman, Superman and more. Realistically this is a fun-filled day out for all the family, no matter your age or size. For more information, visit wbworldabudhabi.com
YAS WATERWORLD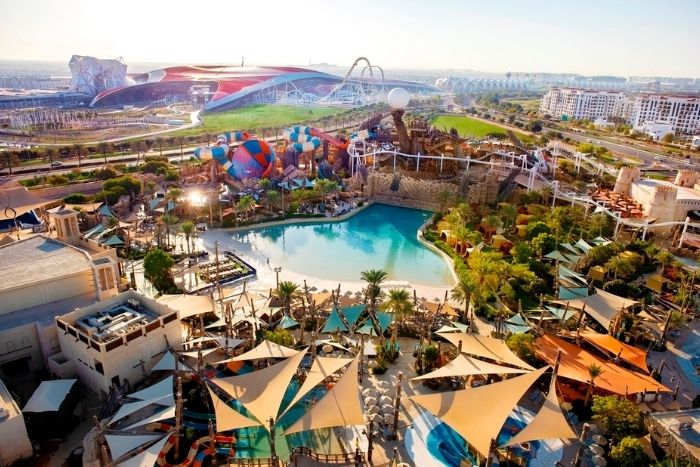 If you are looking for a splash-tastic kids' thing to do in Abu Dhabi then look no further than Yas Waterworld. With more than 45 slides, rides and attractions, make the most of the Abu Dhabi sun as you tackle the Dawwama, get the blood-pumping on the Liwa Loop or thunder down the Jebel drop for a family day out to remember. For more information visit yaswaterworld.com
CULTURAL KIDS THINGS TO DO
ABU DHABI CHILDREN'S LIBRARY
Feed their appetite for reading with this welcoming haven of books and literature. Placed right beside Qasr Al Hosn and the Cultural Foundation, Abu Dhabi Children's Library is perfect for any budding bookworm with special spaces like Book Mountain and The Dunes fostering a wonderful environment for little ones to sit back and open a book. For more information visit culturalfoundation.ae
SHEIKH ZAYED GRAND MOSQUE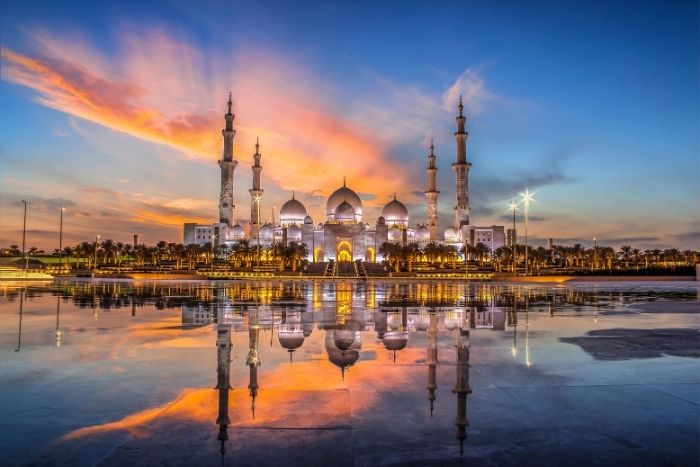 The iconic image of Abu Dhabi, Sheikh Zayed Grand Mosque is a wonderful place to introduce your children to the heritage and culture of the UAE, as well as an opportunity to learn about Islam. Definitely one of the best kids' things to do in Abu Dhabi. For more information visit szgmc.gov.ae
EDUCATIONAL KIDS THINGS TO DO IN ABU DHABI
KIDSZANIA
The best way to teach is through the medium of and at one of the best kids' things to do in Abu Dhabi, Kidzania in Yas Mall, your little ones can learn and develop real life skills at its interactive mini city. There are more than 40 roleplay activities for kids and teens aged four to 16, in which to take part such as jobs, money and the real world. For more information visit tickets.kidzania.ae
NATIONAL GEOGRAPHIC ULTIMATE EXPLORER
Kids are curious little creatures and you can help answer one of those many questions they have with a trip to this fantastic facility in The Galleria Al Maryah Island. Located on Level 2 in the shopping centre, National Geographic Ultimate Explorer provides kids with a huge range of activities where they learn about science and space to the natural world. For more information visit call 052 403 7166
THE NATIONAL AQUARIUM ABU DHABI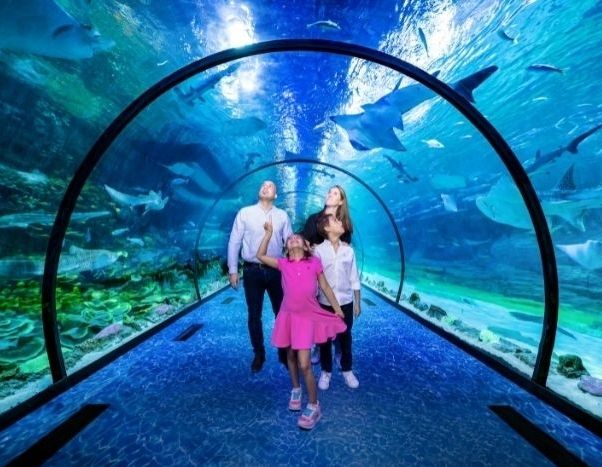 You can dive under the sea and explore a fantastic recreation of a shipwreck at this kids' thing to do in Abu Dhabi. The Middle East's largest aquarium holds some 46,000 marine and aquatic creatures, including the world 's largest diverse collection of sharks and rays as well as Super Snake; a 14-year-old reticulated python. Spread over 10 ecosystems, little explorers will have the opportunity to learn about cultural heritage, education and conservation. For more information visit thenationalaquarium.ae
NATURE LOVING KIDS THINGS TO DO IN ABU DHABI
AL AIN ZOO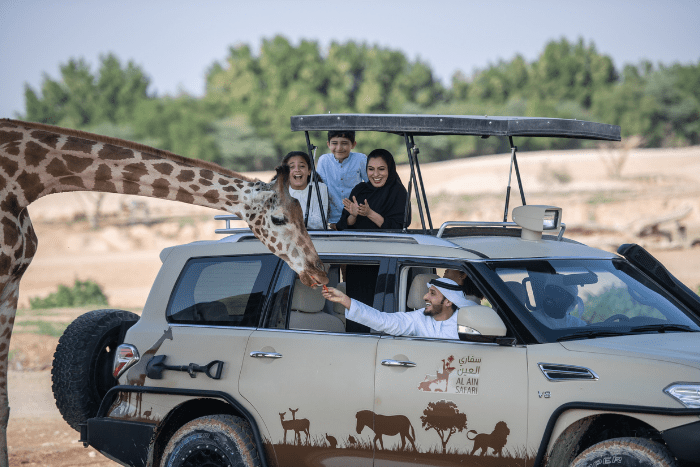 Head south to the Garden City and discover the weird and wonderful animals of the wild at Al Ain Zoo. One of the best kids' things to do in Abu Dhabi, you can walk with lemurs, say hello to a penguin, catch a falcon show, feed a giraffe and more at this animal sanctuary established by The Founding Father, The Late HH Sheikh Zayed bin Sultan Al Nayhan. For more information visit alainzoo.ae
EMIRATES PARK ZOO
Breakfast is the most important meal of the day but at Emirates Park Zoo it is also the most fun one too as you pull up a chair to the dining table and enjoy a bite with some illustrious company. Yes, you can tuck into your breakfast with giraffes at Emirates Park Zoo to the sound of African drums pounding away. One of the best and most unique kids' things to do in Abu Dhabi. For more information visit emiratesparkzooandresort.com
UMM AL EMARAT PARK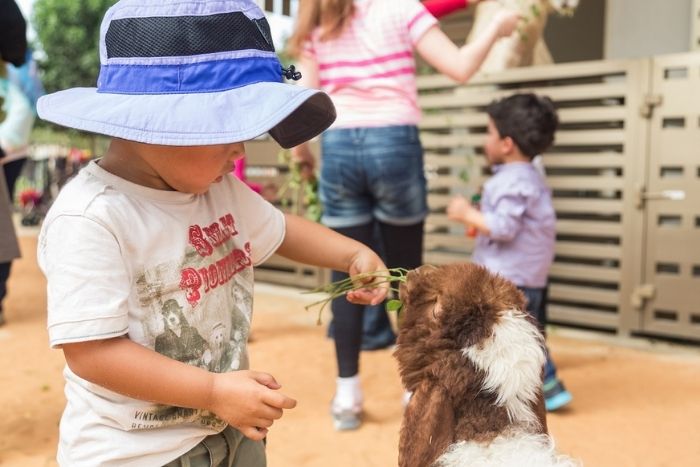 One of Abu Dhabi's most beloved parks (and definitely one of Team Yalla's) is the ideal place to while away a lazy weekend afternoon under the Abu Dhabi sun. As you amble around the beautifully constructed park, children can get up close and personal with nature thanks to the animal barn and wonderful Botanic Garden. And when the weather cools, families can enjoy a movie on the big screen every Friday night or savour a drink from one of the stylish cafes located at the park's entrance. For more information visit ummalemaratpark.ae.
SPORTING KIDS THINGS TO DO IN ABU DHABI
321 SPORTS
Inspire the next sporting star with a match at 321 Sports on Al Hudayriyat Island. Score a goal on the football pitch, shoot a hoop on the basketball court or smash a winner on the tennis court at this hub of sporting entertainment. For more information visit 321sports.ae
ABU DHABI CRICKET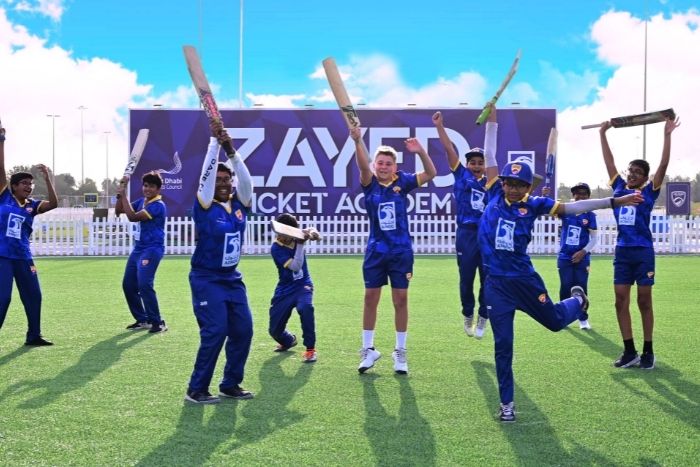 For those kids who love sporting things to do in Abu Dhabi, the home of cricket must be on their visit list. A haven for not only those who love cricket but all sports, kids have the chance to try their hand at firing off a serve on the tennis court, scoring a goal on the football pitch, bowling at the stumps or dropping a goal on the rugby field. The list of sports is endless as is the fun. For more information visit abudhabicricket.ae
AL FORSAN INTERNATIONAL SPORTS RESORT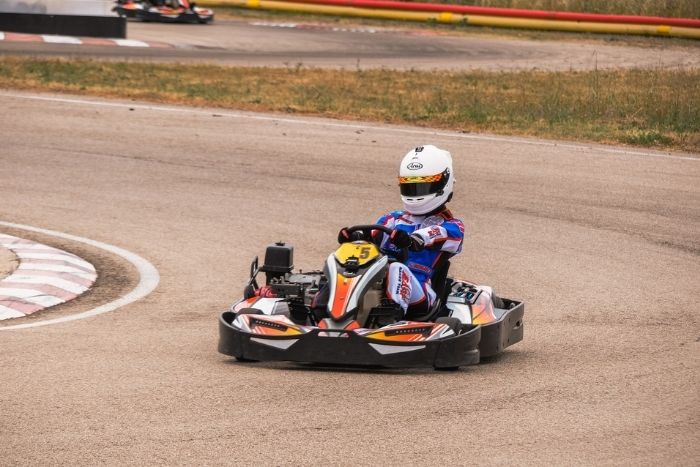 At one of the largest recreational centres in the city, you will find some of the best kids' things to do in Abu Dhabi. Take on new experiences like shooting and sword fighting and wakeboarding and ziplining at Al Forsan International Sports Resort Abu Dhabi. And don't forget to enjoy a game of padel tennis on one of the new indoor courts. For more information visit alforsan.com
YAS MARINA CIRCUIT
If your child is old enough to ride a bike, then taking them for a cycle around Yas Marina Circuit is a must when in the capital city. Open to the public free of charge, you and then kids can ride around the world famous F1 track for a few hours every Wednesday. For more information visit yasmarinacircuit.com
ZAYED SPORTS CITY
This area of the capital is packed with superb activities for children and parents with which to get involved. Perform your best impression of Torvill and Dean on the ice, bowl the perfect game on one of the bowling lanes or master your swing on the world's best golf on the golf simulator. For more information visit zsc.ae
For all the latest kids things to do in Abu Dhabi, follow Yalla UAE
Image source provided