Mother Nature is under the spotlight as the Connect with Nature youth initiative aims to protect our ecosystems
There is no better time than now for meaningful conversations, especially when it involves youth and nature.
Emirates Nature-WWF and the Environment-Agency Abu Dhabi, with the International Fund for Houbara Conservation as a strategic partner, have partnered to launch the Ghaf Youth Majlis in collaboration with Al Fahim Group.
The partnership is part of the Connect with Nature youth initiative, which aims to create a balance between modern life and protecting our ecosystems, while also keeping traditions alive.
Inspired by the symbolic national Ghaf tree, which is known for bringing together UAE's tribal leaders and Emiratis for community discussions, the series of storytelling majlises will spark conversations between renowned and experienced speakers and the youth of today.
The first Ghaf Youth Majlis, 'The Importance and Benefits of Connecting with Nature', hosted on November 3, saw close to 100 attendees, including Barney Swan, Founder of Climate Force and Hasan AlHashimi, owner and general manager of Seahawk Water Sports and Adventures, and gave youth the chance to connect with key environmental issues.
Win prizes
The second youth majilis is set to roll out today Wednesday, 25 November at 4.30pm.  Entitled 'Can Tech Save Nature in the UAE', the discussion aims to spark discussions around technology, conservation and the possibilities the future can hold – assessing how much faith we should put into the world of tech to save the planet.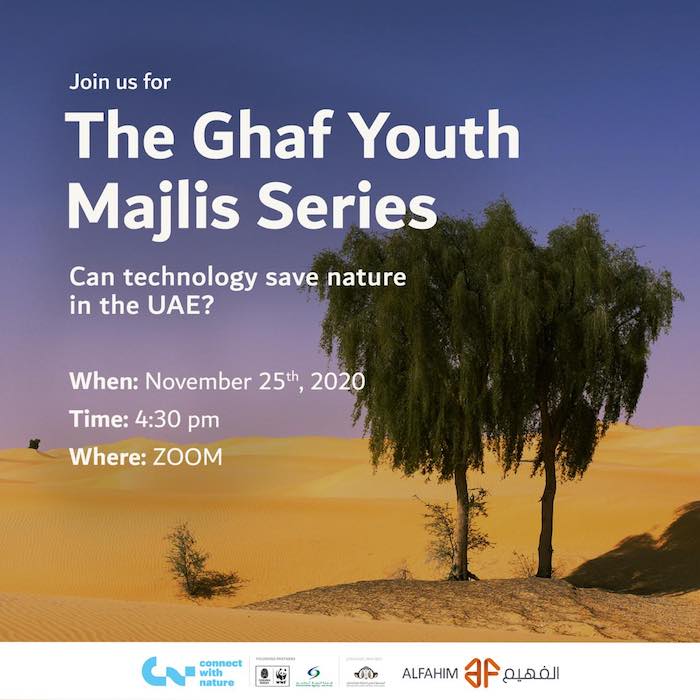 A third and final majlis will take place in December and will explore the characteristics of the Ghaf tree as well as its cultural ties to Emirati heritage.
Running till 9 December, Connect with Nature and Al Fahim Group have also launched a creative competition aimed at showcasing endangered species, their relationship to local heritage and the role you can play to preserve them.
Showcase your creativity in poetry, illustration and photography and help raise awareness about the threatened species including the Arabian Oryx, the Greater Spotted Eagle, the Grey Mangroves, the Asian Dwarf-Honeybee, the Arabian Tahr, the Hamour, the Dugong, the Dhub, the Ghaf tree and the Houbara Bustard.
(You can visit this website to learn more about each species and help to preserve them)
Winners will be announced on 13 December and you could receive a certificate, a Ghaf shaped trophy as well as an AED 500 voucher from Al Safar Travel and Tourism.
That's not all, all participants will be awarded an Explore badge on their Connect with Nature app account.
Click here to submit your artwork, which will also be featured on the Connect with Nature digital platforms.
The Ghaf Youth Majlis series aims to introduce new ways of tackling current challenges, stimulating fresh ideas, and enabling youth to discover past wisdom to adopt it in future decision making.
Want to sign up to the Ghaf Youth Majlis series? Please visit Ghaf Youth Majilis series.