Adventure, food, relaxation and more to be discovered on Sir Bani Yas Island.
PARTNER CONTENT: An idyllic island with ocean of experiences is what awaits you at the luxurious Anantara Resorts Sir Bani Yas Island this summer.
Encouraging you, your partner and your family to leave the ordinary far behind and discover the secrets of the enchanting island, Anantara's three opulent resorts are ready to welcome you into a state of blissful relaxation and happiness.
Yielding stunning views of the crystal-clear waters of the Arabian Gulf, Desert Islands Resort & Spa is the perfect location for families to explore their adventurous side. Satisfy your kids' curiosity in nature, history and adventure with wildlife drives, falconry demonstrations and visits to one of the island's wonderful archaeological sites.
And when it is timed to rejuvenate, experience the lush surroundings of the beautiful spa where you can enjoy revitalising experiences that combine the ancient rituals of Arabia with age-old eastern health practices.
For a secluded, romantic break with your significant other, the Anantara Al Yamm Villa Resort offers up beach barastis and mangrove views. Admire endless ocean views or parades of pink flamingos languidly strolling around from your lavish accommodation as you plan your schedule where you can chill poolside, kayak or snorkel clear waters, ride horseback or capture the essence of tranquillity with a unique Spa Beach Cabana experience where all your needs are taken care of by expert therapists.
Head back to nature with a touch of Africa at Anantara Al Sahel Villa Resort. Home to more than 17,000 animals from 30 different species, stay in an African-inspired villas set in lush savannah where you can cast your eyes on galloping gazelles frolic alongside grazing giraffes. After the nature experience, turn up the adrenaline levels with a wadi walking tour or mountain biking across challenging terrain before retiring to your gorgeous villa to watch the sun set for another day.
SAVOUR EVERY MOMENT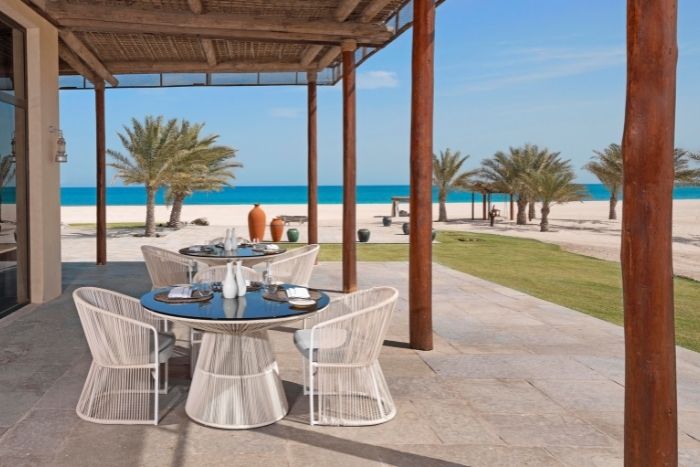 Exploring this treasure trove of an island can be hungry work and Anantara Resorts Sir Bani Yas Island serves up a banquet to satisfy all tastes. From the rustic, beachside setting of Amwaj dishing up sumptuous seafood to the wild African flavours of Savannah Grill, diners can expect delicious tastes from all over the globe on the island.
Begin your day with an international buffet breakfast at The Palm before keeping hunger locked up until dinner time with superb poolside bites and delights or refreshing mixed drinks in the stylish surrounds of Al Shams.
As day turns to night, sample Italian favourites at Olio against the backdrop and sound of the ocean melding with the pristine sand of the island or tuck into a meat feast at Boma Night, Savannah Grill's barbecue event, that teases the tastebuds with boerewors, grilled venison and African Mielle Pap that is cooked to perfection on the braai and served by the bonfire.
But those looking to upgrade their dining experience at Anantara Sir Bani Yas Island, enjoy your own bespoke menu with Dining by Design. Laid on by your own dedicated butler at Spice Spoons, guests hone their cooking skills, recreating the region's favourite dishes under the guidance of Anantara's master chefs.
To book your getaway at Anantara Sir Bani Yas Island
Image source provided