Ryan Baker, Director of Sport at the British International School Abu Dhabi, explains why focusing on multiple sports rather than specialising in one can reap more benefits for children.
PARTNER CONTENT: Many youngsters aspire to be the next Lionel Messi, Cristiano Ronaldo, Venus Williams, or any top athlete. However, specialising too early in just one sport might not be the best path in developing youth athletes.
There's no doubt that to reach professional heights, focused participation in a single sport is necessary, but there's debate as to whether intense practice time and excluding other sports to accomplish success should begin during early childhood.
Current research says that a multisport approach in the younger years is the best way to achieve performance at a higher level rather than specialising in an individual sport. Furthermore, there are many benefits of children playing multiple sports. These include: Fewer injuries and burnout.
Early specialisation can increase the likelihood of overtraining, putting pressure on developing bodies and causing higher chances of injury. There's also a risk of burnout; focusing on one area or activity can mentally strain young athletes where success is expected. Repetitive games and sports may also lead to boredom.
Broader exposure: A multisport approach allows students to develop an interest in other sports. Participating in various physical activities can unearth different talents and skills –physical, social, and emotional. It also fosters a greater breadth of skills and experience leading to further muscle and movement development.
Transferable skills: Having a well-rounded skillset, thanks to sports diversification, enhances hand-eye coordination, balance, endurance, communication, and athletic and tactical agility. All skills that can be transferred from one sport to another.
Long-term success: Young athletes who play several sports into their teens may have more interest and enjoyment for physical activity, develop into better athletes with fewer injuries, and have a much higher chance of being active adults.
Insight: Playing multiple pursuits improves physical skill sets and provides insight into what you enjoy and are good at. How do you know if your chosen sport is your favourite if you haven't tried others? By experimenting and playing many sports, there's an increased probability that you will find the "right" one for you.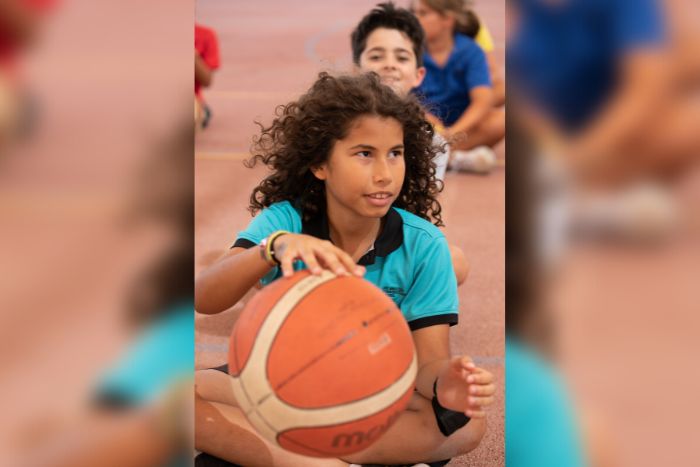 At the British International School Abu Dhabi, we take a holistic and inclusive approach by offering a varied sports provision for all.
Children are encouraged to participate in a wide range of physical activities to discover their talents and passions. Particularly in the primary years, we want to build a range of fundamental skills rather than focusing on one aptitude or one sport.
I'm not saying don't encourage some specialisation when children are young – particularly if you see natural talent – but it is all about balance.
Current thinking states that students usually pick a specialism between 13-14 years of age, so as a School, our aim is to ensure that students have the right proficiencies so that when they make those decisions, it's not narrowed down because of the lack of fundamental skills.
To develop these core skills, our Sports Curriculum focuses on physical literacy, which are the fundamental movements that develop through varied activities. Dodging, rolling, landing, jumping, bending, balancing, and flexing are all competencies needed whether you are on the pitch, court, or track.
Furthermore, children need opportunities to be children. Kicking a ball, running around the playground, and climbing a tree all help you learn what your body can do. The benefits young people get from being exposed to various sports, and physical activities go way beyond the curriculum. There's a saying, "you don't choose the sport; the sport chooses you," which ultimately depends on your skill set.
For more information about the British International School Abu Dhabi, visit BIS Abu Dhabi

Follow Yalla – Abu Dhabi Life for all the latest news across the capital and beyond

Image source The British International School Abu Dhabi