You're spoilt for choice in the capital!
Abu Dhabi is gearing up for Christmas and although it's not going to be a white one, it's certainly going to be jammed-packed fun!  Team Yalla has arounded up some of the best events and eats around for you and the family to enjoy this festive season!
5 FESTIVE DINNERS AND BRUNCHES IN THE CAPITAL
Festive Buffet at Conrad Abu Dhabi Etihad Towers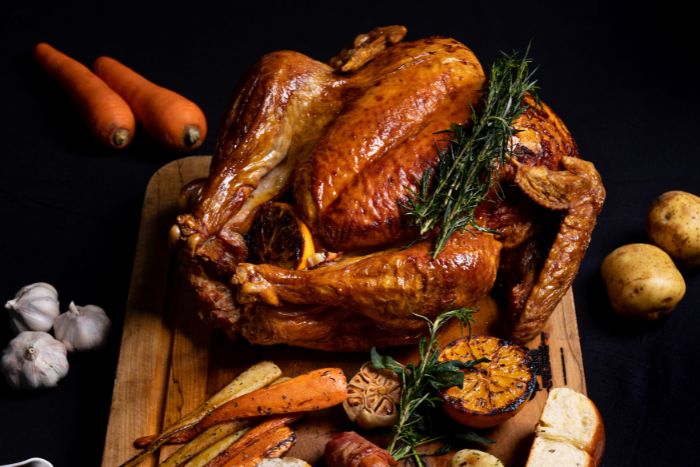 Taking place at Nahaam poolside outlet and SOLE, this buffet-style feast will feature the finest festive dishes from the award-winning restaurants at Conrad Abu Dhabi Etihad Towers. While you wait on a visit from the main man from the North Pole, a live band promises to serenade you. Call 02 811 5666
Oak Room Christmas Day Roast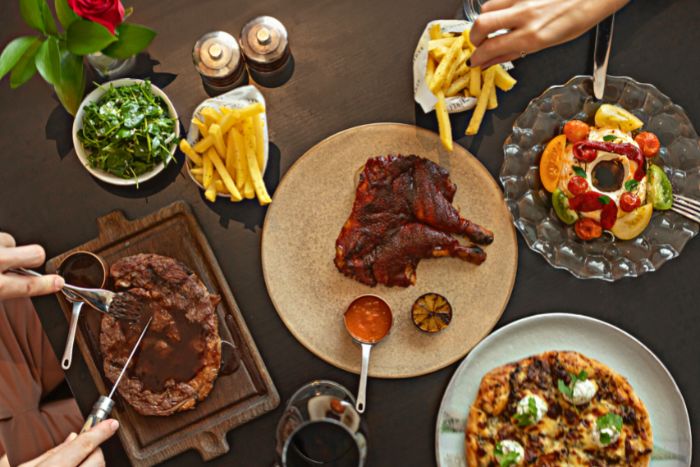 The Oak Room Christmas Day Roast offers the best of tradition with just the right touch of flair. The finest seasonal produce combined with expert skills make for brilliant dishes such as Foie Gras Torchon-Cocoa, Roast Beef Sirloin, a decadent trolley selection of British Cheese and a range of six grapes to wash it all down. The desserts are the best of your sweet imaginations come to life, to round off the roast in a fitting manner. Call 02 208 0000
Pool Party at WET Deck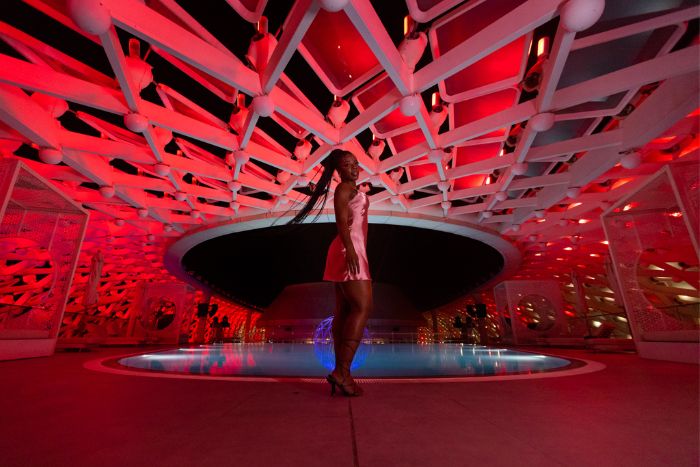 Night full of mulled grape got you too hard? Christmas day can be a little more chill then, if you're ready to Soak It Up. The pool party at WET deck offers all the fun and sun, complete with a resident DJ making it the coolest hangout spot this festive season. The three-hour beverage package makes this one of the capital's most unmissable and happening hangs. Call 02 656 0000 or visit wabudhabidining.com
Festive Sunset Supper on the Helipad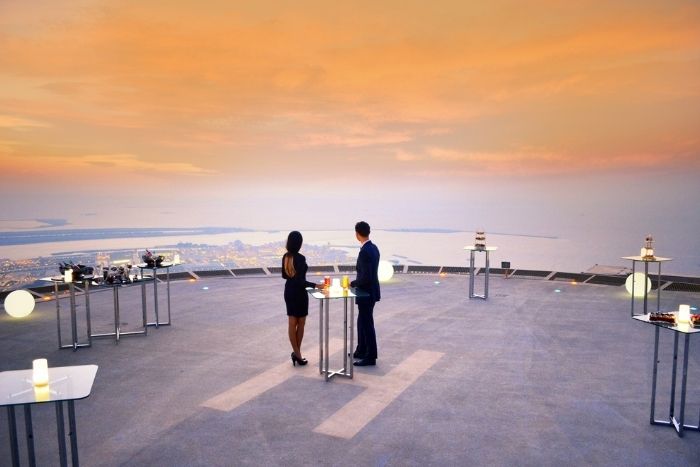 Come 17 December, residents and visitors are welcome at The St. Regis Abu Dhabi's Christmas grape-tasting journey. Starting 5pm to 6.30pm, the intoxicating journey is further enhanced by the iconic helipad, as you drink in both premium bubbly and stunning panoramic views of the city.
Expert sommeliers will be on hand throughout the evening to keep every glass filled with the refreshing tastes and floral, fruity notes of premium bubbly, whilst specially curated Christmas-themed canapés will fuel spirited festive chatter as you witness the glorious sunset. Price: AED 850 per person. For more information and bookings, please call 02 694 4553
Christmas Brunch at the Park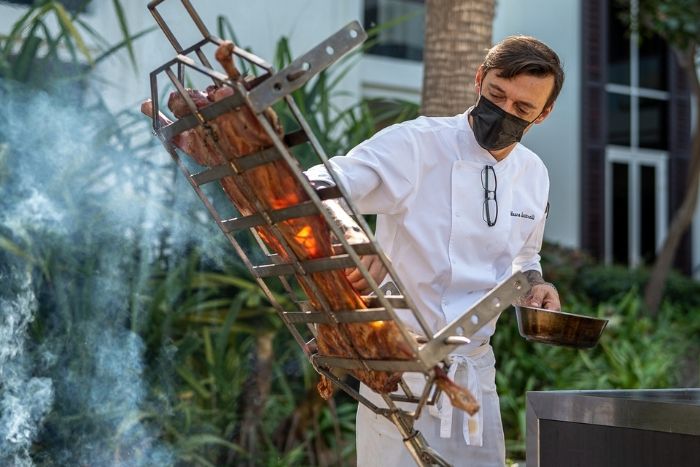 Nothing sets the holiday mood straight like a Christmas Brunch at the Park. Head to The Cafe from 1pm to 4.30pm for an extravagant feast that is a treat both to your eyes and your cravings! Be sure to make your bookings in advance and secure a spot at this coveted restaurant. Call 02 4071234
Fouquet's Abu Dhabi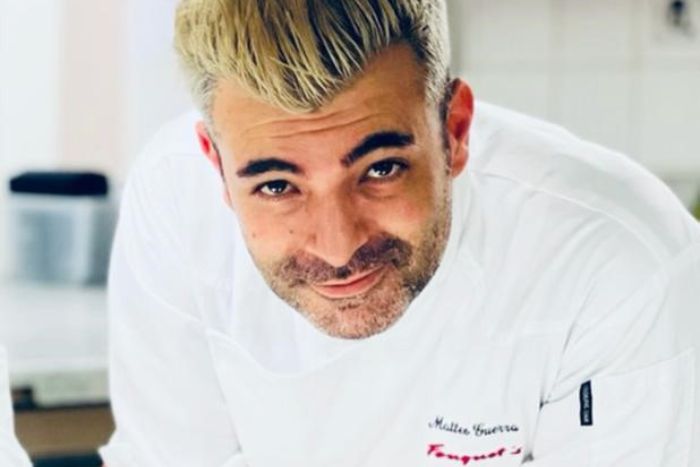 Who wouldn't want to celebrate Christmas with Louvre Abu Dhabi in the backdrop? The most exclusive destination in the UAE capital presents a sumptuous Menu Noel. Full of French delicacies, guests can embark on a festive and heart-warming journey to the City of Lights. Thoughtfully curated by Chef Pierre Gagnaire, the fabulous five-course experience offers a mix of classic and contemporary for a wholesome French Christmas. For reservations, please call 02 205 4200
4 TURKEY TAKEAWAYS ACROSS THE CAPITAL
Conrad Abu Dhabi Etihad Towers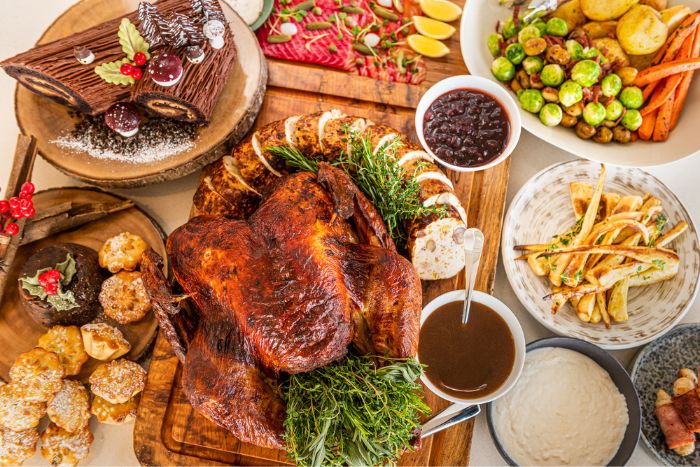 A superbly curated festive hamper that brings the glamour of a five-star feast straight to your door with a traditional roast turkey taking centre stage. The perfectly prepared bird is served with colourful and tasty trimmings such as golden herb-roasted potatoes, fresh parsnips and carrots, aromatic turkey gravy, and even more delectable sides. Or if you prefer, order a rather succulent, roast beef. All suitable for eight to 10 persons, there are also delectable desserts in the offing too, and a rather stunning Yule Log. Call 02 811 5555 or visit festiveseasonabudhabi.com
The St. Regis Saadiyat Island Resort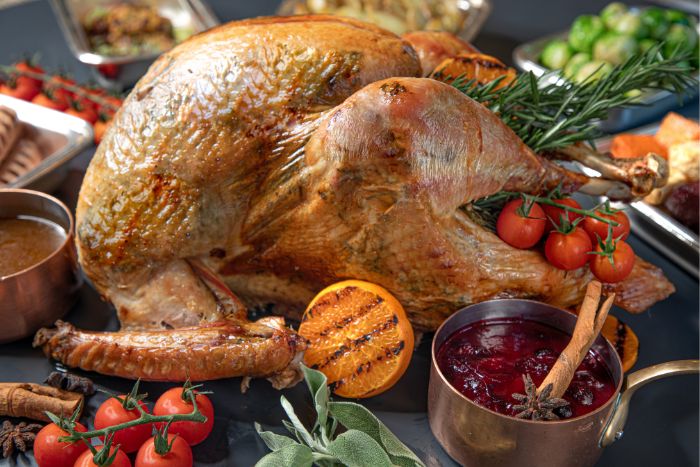 Bring home a majestic banquet consisting of a slow-roasted herb turkey with chestnut and sage stuffing with roast baby potatoes, roast root vegetables, chipolata sausages, gravy and cranberry compote. There is also an option to tap into their scrumptious signature dessert selection. Call 02 498 8888
Saadiyat Rotana Resort & Villas – Abu Dhabi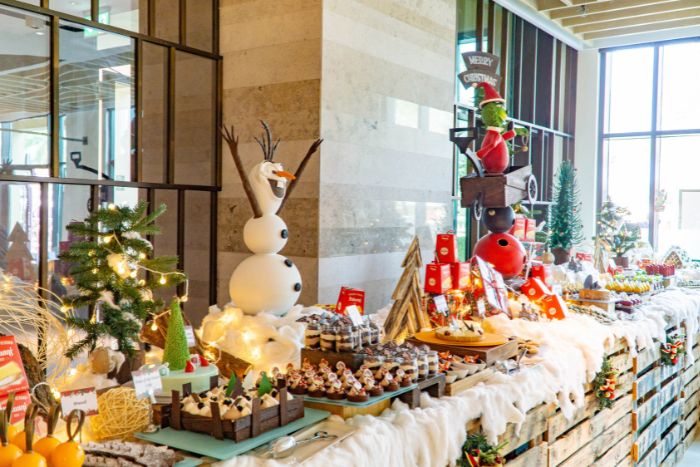 Have yourself the ultimate Christmas Turkey Takeaway courtesy of Sama Lobby Lounge. This beast of a feast is delivered with traditional stuffing, cranberry sauce and all the sides you can muster. Topped with a generous serving of turkey gravy, it is pretty perfect. Call 02 697 0000 or email [email protected]
W Abu Dhabi – Yas Island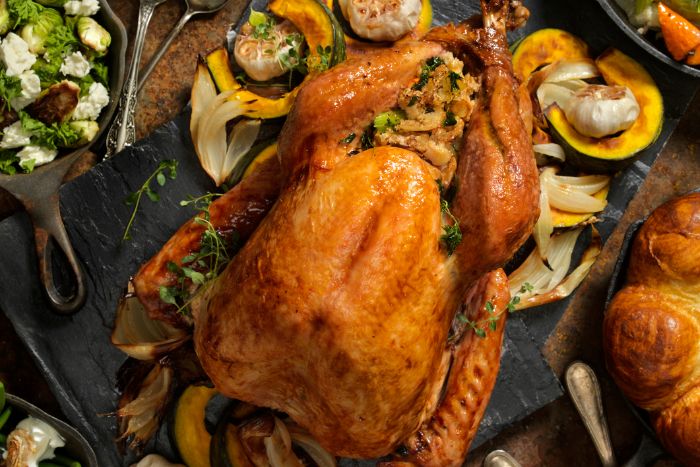 There is nothing better than donning your festive attire and sipping a refreshing drink with your favourite people. And then there is the W2GO Turkey to cover your party plans with a fully-fledged roast. The succulent turkey comes with infinite sides and sweet pumpkin pies that will make your festive dinners the best on the block. Call 02 656 0000 or visit wabudhabidining.com
4 BUILD YOUR OWN GINGERBREAD HOUSE 
The St. Regis Saadiyat Island Resort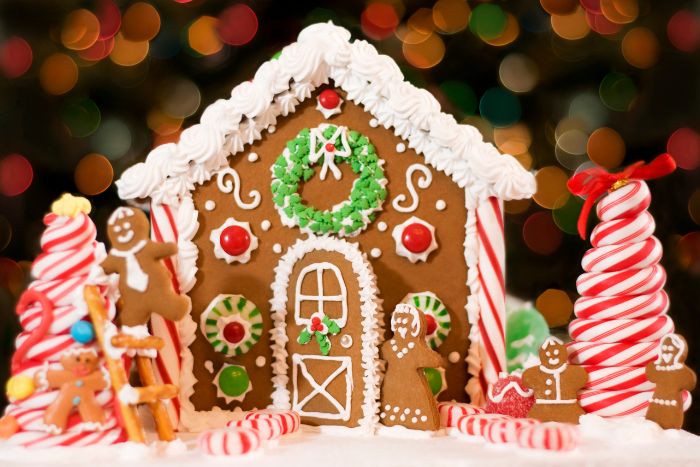 Fancy yourself your very own gingerbread house? Head to Oléa Restaurant for an epic workshop plus their Tiny Afternoon Tea. As your children create their special houses this holiday season, you can relax with the impressive tea. From 5pm-7pm on 17 December, it's the sweetest note to start off the holiday season. For more information, please call 02 498 8888
Saadiyat Rotana Resort & Villas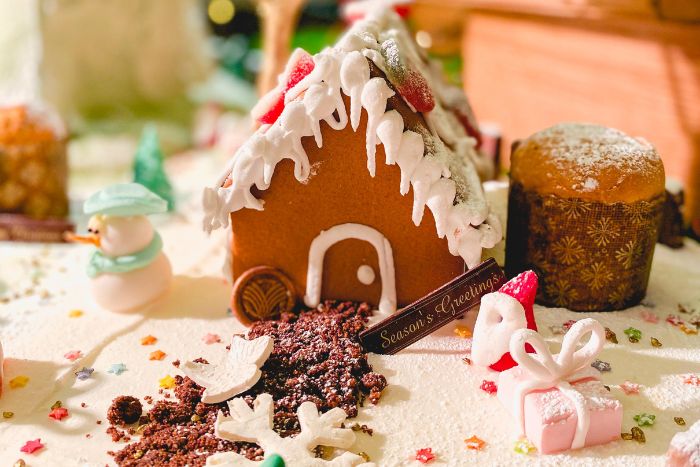 Head to Sim Sim and gift your kids the chance to build their very own Gingerbread House. Priced at AED 135 per child, the workshop is available on 11 and 18 December from 3pm-5pm. As you watch your precious little ones construct the house of their dreams, don't forget to enjoy the enticing spread of sweet treats, confectionary and freshly bakes Christmas-themed sweets & pastries. For more information, call 02 697 0000
Sheraton Abu Dhabi Hotel and Resort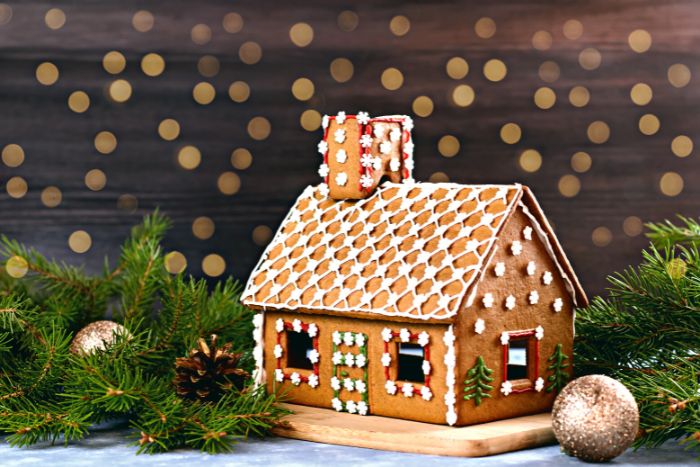 The little ones can bring out their inner creativity with Gingerbread Factory at B-Lounge. On 7 December from 5pm-7pm, catch their sweet eyes sparkle as they assemble those crispy walls and put on colors and decor and bring tiny Christmas houses to life. As they get to work, the chefs prepare a kiddy Christmas buffet with Santa to stop by for the ultimate day of fun and cheer. For reservations, please call 055 367 5083
Grand Hyatt Abu Dhabi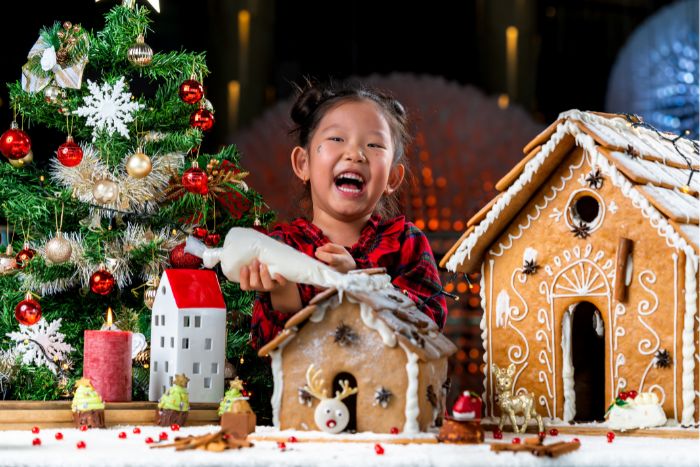 The best Gingerbread House Decorating event is definitely at Pearl Lounge. From 3pm-5pm on 4 December, deck the halls of the restaurant with festive cheer. Get Santa's little helpers along for an interactive workshop where they can decorate gingerbread houses with an assortment of decadent confections. For more information, please call 02 510 1234
4 TREE LIGHTING EVENTS IN THE CAPITAL
Sheraton Abu Dhabi Hotel and Resort
Block 6pm on 7 December for a special Christmas Tree Lighting. Head to the lobby as the entire hotel comes alive with magnificent lights. With Christmas carols setting a serene mood and Santa (plus gifts!) scheduled to arrive, let the merry-making begin! For more information, please call 055 367 5083
Saadiyat Beach Golf Club
Gather your nearest and dearest at Saadiyat Beach Golf Club to ring in the festive season in style. As the Christmas tree lights up in all its glory, there's a delicious BBQ dinner for you to enjoy. And then of course, what celebration is complete without carolers and Santa? Definitely a must-visit! For more information, please call 056 660 8780
Dusit Thani Abu Dhabi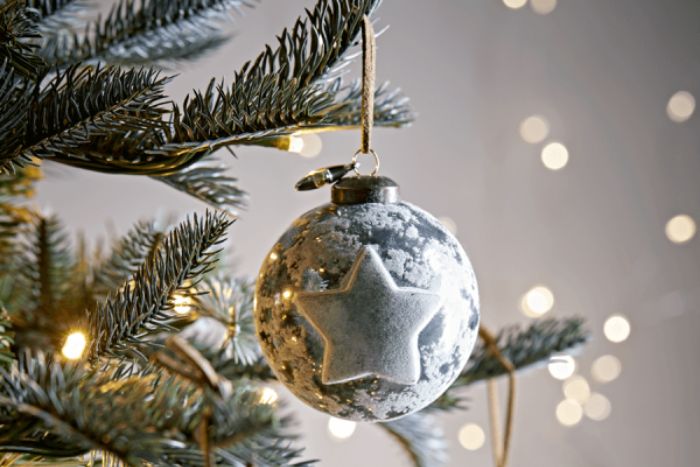 The entire Skydome here is about to take your breath away when the Christmas Tree turns on. The carolers are special too, bringing students from across the emirate to immerse you in the spirit of the season. From 7 to 10 December, there's also a beautiful Christmas market to explore. From treats, games and activities for the whole family to a special visit from the North Pole, there's cheer in abundance. For more information, please call 02 698 8888
Yas Links Abu Dhabi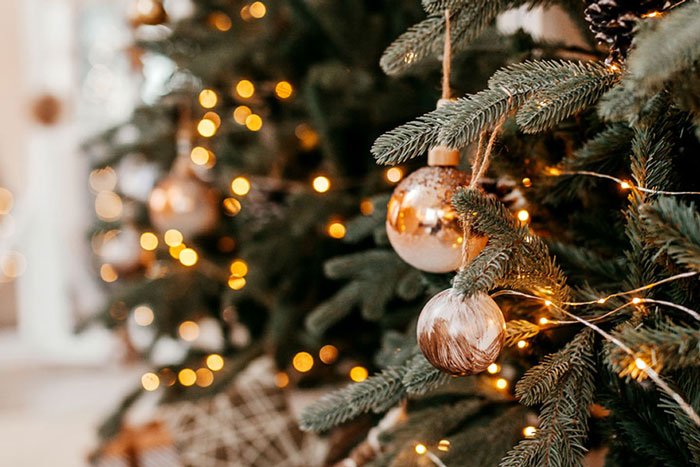 The best way to kick off the season of merriment is obviously with a Christmas Tree Lighting. From 6pm to 7pm, on 9 December, gather your family and attend the annual festive tree lighting on the Lawn of Yas Links Abu Dhabi. Enjoy Gluehwein, festive cookies and kids' activities, including a Santa visit and giveaways. All while the choir keeps spirits up of course. For more information, please call 02 404 3077
Follow Yalla – Abu Dhabi Life for all the latest news across the capital and beyond
Image source provided