The UAE premiere of FIQ will debut at The Arts Center at NYU Abu Dhabi
The Arts Center at NYU Abu Dhabi will host the UAE premiere of FIQ! from April 28-30.
The show is a whirlwind of traditional and modern floor acrobatics, dance, and breakdancing, by Groupe Acrobatique de Tanger, whose founder Sanae El Kamouni gathered a group of Moroccan acrobats for a project featuring new contemporary acrobatic creations.
To celebrate international Dance Day (April 29) El Kamouni shares her thoughts on the importance of dance to individuals and society.
How was Groupe Acrobatique de Tanger formed?
I founded the Groupe Acrobatique de Tanger in 2003 with Aurélien Bory, and my observation was simple: in Morocco we have a spiritual and ancestral tradition of Moroccan acrobatics, which is unique in its technicality and a jewel in our cultural heritage. However, no contemporary creation existed at the time so I wanted to reinvent Moroccan acrobatics and create a contemporary circus movement.
What was it you were looking to create, both in terms of your approach to choreography and the ethos behind the Groupe?
It's a circus company first and foremost, but our artists and performances include acrobats, dancers and DJs. Our project is based on Moroccan acrobatic heritage with a permanent desire to reinvent the form for each of our creations. We try to question the world around us as we approach, in movement, the contemporary questions of our time. Our cultural and historical heritage, and our encounters between the two shores of the Mediterranean, feed this artistic approach.
How does your work comment on Moroccan society, and society in general?
FIQ! is the voice of the young artists who present it. They defend universal values, aspire to a more just world, and address contemporary issues related to Moroccan society, expressing opinions that make us think. Some subjects may disturb certain societies, but we are convinced that change begins with debate, sharing ideas and respecting others, whatever our differences. The duty of an artist is to question the world around them and to bring a certain look that can lead to an individual and collective reflection.

Tell us about the relationship between music, pop art and dance in this show?
Music is very important in this show. It sets the pace and creates completely different worlds from one scene to the next. The music of the show was composed by DJ Key and then taken over by DJ Dino who plays with the artists on stage. He is the bandmaster who directs everyone on stage with his coloured turntables. The whole thing evolves in a very pop-like universe that comes from the famous artist-photographer Hassan Hajjaj. He designed the scenography and the costumes of the show, and stages his subjects before taking their pictures in his crazy universe. Hassan creates these universes by borrowing banal elements from the Moroccan streets: it can be Coca-Cola boxes, coloured plastic mats, sardine cans, matchboxes… It's a simple and complex scenography at the same time.
Dance of course has an important place in our show. All the creative work was articulated around dance, music, Hassan's universe, and circus. Each component is important, and each component depends on the other to exist. The music gives the rhythm, and the dancers and circus artists evolve throughout the show in a completely dark and black universe towards an explosion of colour.
What is unique about Moroccan acrobatics and dance?
Moroccan acrobatics is an ancestral art dating from the 15th century that is part of the Sufi tradition. This alone makes it unique, as does its technical specificities. The acrobatics are articulated around two directories: human pyramids and acrobatic carrying, and then acrobatics on the ground that is also a form of circular acrobatics – only Moroccan acrobats can do acrobatics in a circle until their heads spin! In Morocco, each region has its own dance, and our dancers were inspired by all these variations in their modern and urban repertoire. Some dances are warrior-like, others sensual, others are technical. Each dance has its own story, and FIQ! is an explosive, joyful, surprising show presented by a collective of brilliant artists.
What was your own journey into the world of dance?
I created the Groupe Acrobatique de Tanger as a Moroccan cultural actress, with the desire and the drive to improve the condition of the Moroccan and Arab artists in general. Among the artists chosen for FIQ!, there are dancers who come from the Moroccan urban scene, such as the talented Azhar El Amine Demnati, or the Bboy Ayoub Maani. It was important for us to include this new generation of young Moroccan dancers in our project.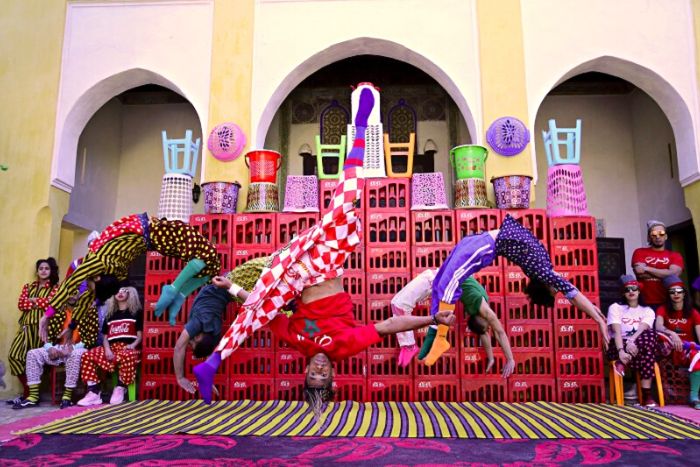 In light of international Dance Day how would you encourage people who don't often go to dance shows but are curious?
In FIQ! there is circus, music, djing, freestyle football and of course dance. It is a show that conveys many things: emotions, ideas, laughter, poetry, and high aerobatics. Movement is at the heart of this show, including dance, human pyramids, acrobatics, balance, trampoline… It is a contagious show where the audience will enjoy fabulous and unique moments. Don't miss it!
From your perspective, why has dance been fundamental to every society in one form or another throughout history?
Dance is a silent art that has evolved enormously over time. It is an art that shapes and projects images of national, gender, racial and ritual identities. The moving body becomes a choreographic reference of national identity, yet dance has also revealed its ability to stand out, playing the role of a critical theory of society. Hip hop dance, for example, is a territorialized dance, drawing its true strength, essence and identity from the social origin of its self-taught dancers. It is a dance that expresses a social revolt. Dance is therefore fundamental; I would even say there is no human society without dance.
How can dancing benefit the individual?
Dance is a real release, a real source of physical and mental wellbeing. It is also a form of expression where dance allows the body to say what words cannot express. Everyone can dance if they just put on music and get carried away by the rhythm. It is a source of simple happiness for everyone.
LAST QUESTION: should we dance alone and if so, why?
I don't know whether we should dance alone, with two or more. What is important is to give ourselves the freedom to do it, alone, shared… It doesn't matter, take time for yourself to dance, let off steam and free your body and mind.
The Arts Center at NYUAD will host FIQ! by Groupe Acrobatique de Tanger on April 28 and 29 at 7:30pm and on April 30 at 3pm in The Red Theater. For more information click here.
Follow Yalla – Abu Dhabi Life for all the latest news across the capital and beyond
Image source The Arts Centre at NYUAD