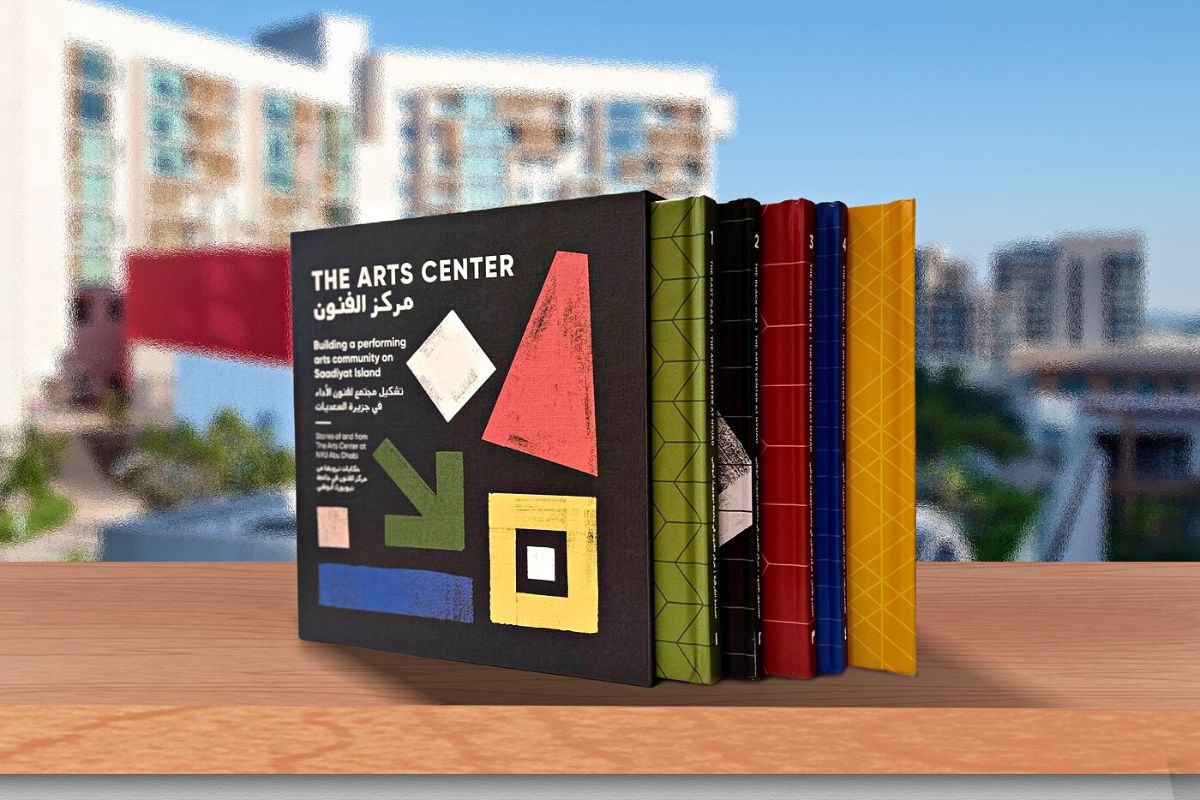 The bilingual box set depicts and highlights performances throughout The Arts Center's first seven years of programming
The Arts Center at NYU Abu Dhabi (NYUAD) celebrated its first seven years (2015-2021) with the launch of a commemorative bilingual book and a panel discussion titled Arts Conversation: Documenting a Performing Arts History.
Available for purchase internationally through Amazon, the book includes a series of essays, anecdotes, and quotes from a variety of prominent members of the community, including Minister of State Her Excellency Noura bint Mohammed Al Kaabi, and Vice Chancellor at NYUAD Mariët Westermann, each sharing stories of how The Arts Center at NYUAD has impacted the local arts scene. It also forms a visual archive, centered largely around the photography of Waleed Shah, and other contributors.
Executive Artistic Director at The Arts Center Bill Bragin said: "The Arts Center means so many different things to so many different people. Its founding and growth, as a significant complement to the development of the cultural district on Saadiyat Island, and the investment in the arts and culture ecosystem in the UAE as a whole, is a story we wanted to tell in all its complex variety.
"Through thoughtful words from a 'polyphony of voices' of contributors, including artists, NYUAD faculty, former students, and journalists who have been documenting the process, as well as gorgeous photography, this five-volume, bilingual box set allows us to tell this story in close to real time."
Bill, along with editor-in-chief, curator, and critic Nadine Khalil; and photographer Waleed Shah, discussed the importance and meaning of documenting the arts and how they have individually and collectively documented seven years of The Arts Center's history. The panel discussion was moderated by Westermann.
Bill added: "We see it as a gift to future historians who may be interested in discovering the first phase of development at Saadiyat Island, and of NYUAD's journey. The scope ranges from pre-Saadiyat days at NYUAD's Downtown Campus, to the move to Saadiyat and the creative placemaking and drive to bring audiences and build a community in a new physical location.
"It also encompasses the challenges to redefine our work and sustain our community when the global pandemic prevented us from physically gathering. How we overcame those challenges is a great testimony to the power and meaning of the arts."
Firmly rooted in Abu Dhabi but with a global reach, The Arts Center has been building a sustainable performing arts community on Saadiyat Island for the past seven years, as it heads toward becoming a cornerstone for the arts in the UAE capital.
The book depicts definition-defying highlights in music, theater, dance, film, poetry, family programs, and interdisciplinary performances. It also tracks The Arts Center's journey to become a beacon on the international arts landscape.
For more information please visit www.nyuad-artscenter.org. The Arts Center at NYUAD is an internationally renowned performing arts center that presents distinguished professional artists from around the world alongside student, faculty, and community productions.
For more information on arts and culture in the capital and beyond, visit Yalla Abu Dhabi Life
Image source NYUAD Arts Center