Award-winning 306 Spa focusses on client well-being, excellence in service and the ultimate selection of luxury products and brands.
306 Spa, formerly known as Rossano Ferretti, has been offering luxury, award-winning services to women in both in Abu Dhabi and Dubai for more than six years.
The master stylists have developed their offering by listening intently to what women want the most from their salon and spa experience – realising in the process that it's not about telling clients how to look, but understanding how they want to feel.
The award-winning salons focus on client well-being, excellence in service and the ultimate selection of luxury products and brands.
And now here are five reasons why 306 Spa is a cut above the rest.
International Award-winning talents
306 Spa has hand-picked international award-winning talents from all over the world, cultivating a dynamic work culture of different ethnic backgrounds from Italy, UK, France, Jordanian, Kazakhstan, Austria and Germany.
Award-winning interiors
306 Spa's unique design is fully converted, architecturally mastered and reimagined villa houses both spas in Abu Dhabi and Dubai, allowing customers to enjoy the unique 306 Spa experience from start to finish, including an extensive range of treatments, hair services, specialist colouring services to expertly executed manicures, pedicures, facials, massages, waxing and more.
Set in the district of Al Karama in the cosmopolitan capital of Abu Dhabi, and along Jumeriah Beach Road in Dubai, 306 Spa is unquestionably the go-to for UAE society's chic, sophisticated and glamourous residents. Incorporating the original structure of the building's residential past, the carefully curated spaces in the salon feature distinguished blackened-oak, decadent lounges flooded with natural daylight and two private VIP spaces for clients to relax and enjoy their personalised service.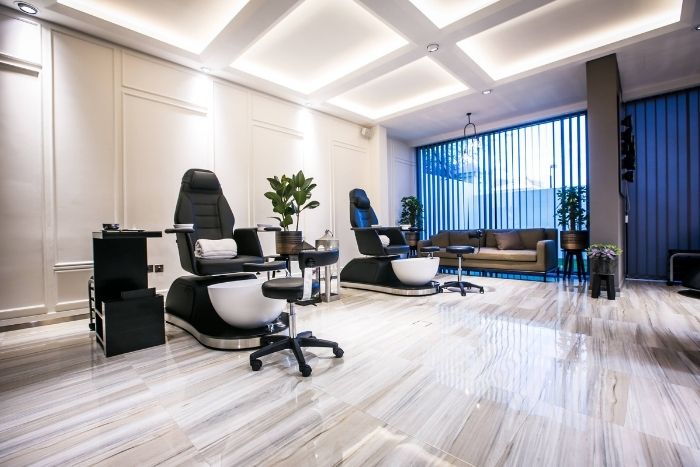 VIP private room service
306 Spa is the only salon in the region that offers VIP room services, understanding that some ladies prefer to be pampered in total peace and privacy. For those who prefer their own space and comfort, they have luxuriously designed private rooms. The VIP rooms can be used for people of determination, wig styling, celebrations, and ladies who seek an calm oasis. The room includes:
Private ground floor entrance
2 cutting/styling chairs
2 manicure and pedicure stations
Private backwash station
Private bathroom
Guest seating
Home and hotel service
With 306 Spa, there is no distance too far. Clients can enjoy beauty treatments, manicures, pedicures, and cutting or styling services in the comfort of their own homes or hotels, offering a private and safe retreat.
Private services follow all necessary COVID-19 protocols, keeping the health and wellbeing of all clients and staff a top priority.
International accessory brands
306 Spa is the only salon that brings unique and international hair accessory brands to the region, including Jennifer Behr, Namjosh, Deepa Gurnani, Slip Silk, and Alexandre de Paris.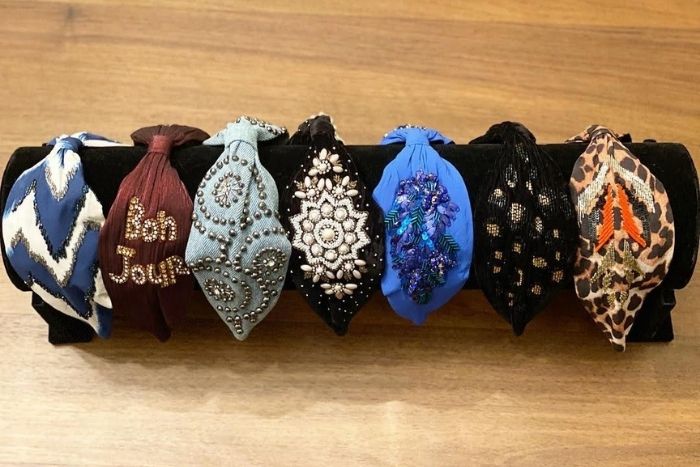 Namjosh
With handmade hair accessories that have become synonymous with quality production and materials, each Namjosh hair accessory is hand-beaded by skilled artisans with embroidery techniques that are passed down from generation to generation.
Alexander de Paris
Alexander de Paris cultivates the talent of its craftspeople, displaying up to 36 years of Maison. The brand's artisanal know-how nurtures the sense of detail and pervades the Jura manufacture with meticulousness at each stage of manufacturing. Recognized by the golden A seal, each Alexandre de Paris hair accessory is certified Handmade in France.
Jennifer Behr
Jennifer Behr went on to create one of fashion's pioneering luxury hair accessory brands. With each style interwoven with a sense of romanticism and ethereal appeal, Jennifer has established herself as the premier name in headpieces worldwide – an effortless brand expansion of modern femininity and timeless elegance.
Deepa Gurnani
Deepa Gurnani remains a luxury brand, focused on limited edition trend-led capsule collections made with Swarovski crystals and semi-precious stones, creating beautiful and easy-to- wear pieces for all occasions.
Slip Silk
The beauty secret of celebrity hairstylists, dermatologists and beauty experts. Slip™ scrunchies are made with slipsilk™, the same silk used in the award-winning slip™ pure silk pillowcase. Its wide surface area and high-grade silk means that every slipsilk™ scrunchie is designed to reduce those annoying ridges caused by regular hair elastics.
Follow 306 Spa on Instagram: @306Spa and on Facebook: 306 Spa
Image source peovided