Prices start from AED 265.
PARTNER CONTENT: Ladies and gentlemen, grab your food passports and head to gate Kuzbara at Marriott Downtown Abu Dhabi because the AUH Brunch is now boarding.
Taking off every Saturday from 12.30pm to 4pm, you and your friends will be able to catch a gastronomic flight around the world at the stylish venue that surrenders gorgeous vistas of downtown Abu Dhabi.
As you place yourself at your table which is replete with miniature bar games, settle into your groove with the latest hits and old-school classics from the cockpit by Captain DJ Fonie.
With Kuzbara flight attendants on hand to serve your every need, cast your eyes on tempting dishes that will make mouth water. Begin your culinary journey with a delectable selection of Sushi, Oysters, Lobster, piquant Salads, and fresh Bread and Cheese.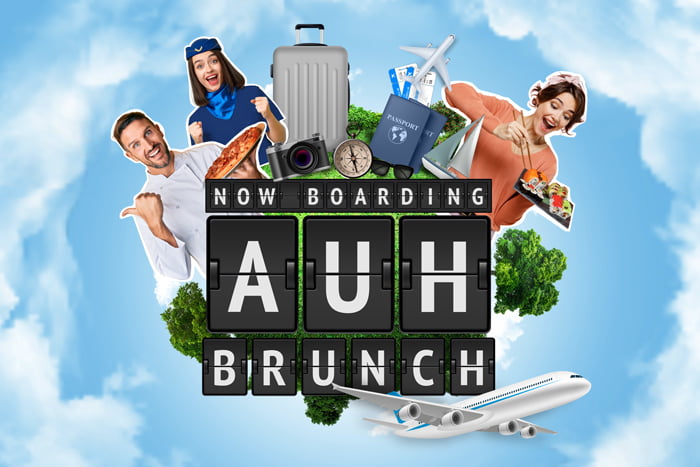 As you continue your ascent into food bliss, make your way to The Carvery section where you can savour Roast Rib of Beef, Roast Leg of Lamb and Roast Chicken, sprinkle some spice on your adventure with the Indian delights like Tandoor, Tawa and Chaat or treat yourself to flavourful Seafood Paella, Lamb Parasia or Grilled Beefsteak.
And when it's time for something sweet, stamp your food passport with oh so decadent cakes, moreish macarons, irresistible cupcakes and more as you bring this fantastic feast to a close.
And what would a flight be without a superbly crafted beverage. Sit back and enjoy an enticing concoction from the Welcome Drink Station or Gin Station while you and your friends jet off into Saturday brunching bliss.
Prices for the AUH Brunch start from AED 265 in Economy but if you truly wish to send your Saturday plans soaring, upgrade your package and book yourself a seat in Business (house drinks) or First Class (premium bubbly and sparkling) for AED 385 and AED 425 respectively.
To book your seat at the AUH Brunch call 02 304 7777 or visit marriottdowntownabudhabilife.com/specials
Image source Marriott Downtown Abu Dhabi