Delicious lunches and brunches at the chic restaurant at the Rosewood Abu Dhabi.
PARTNER CONTENT: Imagine a place where beautiful dark brown, wooden hues are gently lit by mellow lighting, where gorgeous oriental décor and artwork adorns the walls and where Chef Dong and his team showcase their culinary skills from the kitchen that offers alluring aromas to set mouths watering.
Open your eyes! You are in Dai Pai Dong.
Nestling in its own corner of Al Maryah Island where the gorgeous Rosewood Abu Dhabi meets The Galleria, the award-winning restaurant invites you to sample honest Cantonese cuisine and specialties in welcoming and warm surrounds.
Place yourself at your table in cosy interiors or head outside to the elegant outdoor terrace which offers incredible vistas of the Abu Dhabi skyline and the setting sun over the capital. Or if you are looking for an even more intimate space, treat yourself to a seat in the stylish speakeasy bar that pays homage to the 1920s Shanghai Jazz revolution, Dragon's Tooth.
Once settled, cast your eyes on a menu that is bursting with Chinese flavours and fare that will impress any gastronome of Abu Dhabi.
ALL YOU CAN EAT STREET STYLE LUNCH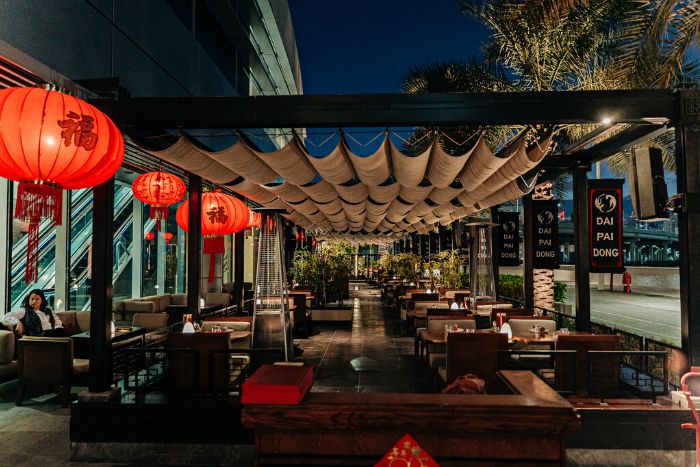 As you take a break from the stresses and strains of the working day, find your sanctuary at Dai Pai Dong where the All You Can Eat Street Style Lunch refuels you for the challenges that are to come. A feast for the eyes as well as the palate, explore the enticing live stations and savour an incredible, unlimited assortment of dim sum, Hong Kong chicken rice, wanton noodle soup and more.
However, if you are looking for a more traditional meal, tuck into the four-course Business Lunch which sees you offered with a superbly curated set-menu by Chef Dong that is delivered to your table. Enjoy moreish dim sum, spring rolls, soup, a main course and an indulgent dessert for a sweet ending.
Available from Monday to Friday from midday to 3pm, you can refuel for the afternoon with the All You Can Eat Street Style Lunch for AED 118.
Friday Evening Hot Pot Brunch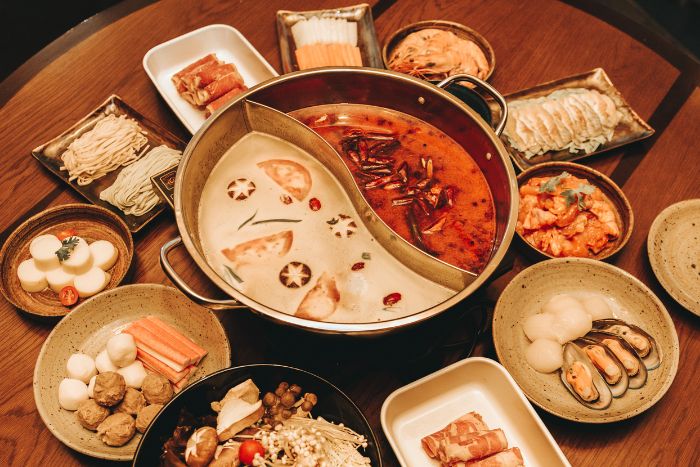 Welcome the weekend in style with one of Abu Dhabi's most legendary brunches; the Friday Evening Hot Pot Brunch. Gather your friends and family around the table every Friday from 6pm to 11pm and immerse yourself in an authentic Cantonese dining experience like no other as you tenderise your fare in the fresh flavoured, bubbly stock of the traditional Chinese Hot Pot.
With prices beginning at AED 298, you can upgrade your Friday Evening Hot Pot Brunch experience to include hops and grapes for AED 428.
The YUM CHA Brunch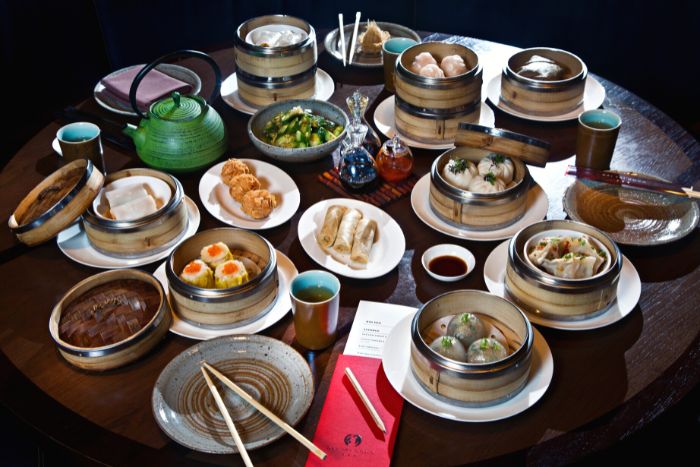 Allow the good times to roll into Saturday and Sunday as Dai Pai Dong serves up the sumptuous YUM CHA Brunch. Taking your weekend to a delicious new level, enjoy a superb array of Cantonese dishes including dim sum, expertly cooked roast meats and sweet tooth quivering desserts over a three-hour experience from midday to 5pm.
Priced at AED 298 for food, you can enjoy hops, grapes and grapes for AED 428.
To book your table at Dai Pai Dong email [email protected] or call 02 813 5550
Image source Rosewood Abu Dhabi