It's that time of the year again…
Order one of these sumptuous takeaways for a festive feast for a hassle-free Christmas and you'll get to truly enjoy this special time of year with your nearest and dearest.
Conrad Abu Dhabi Etihad Towers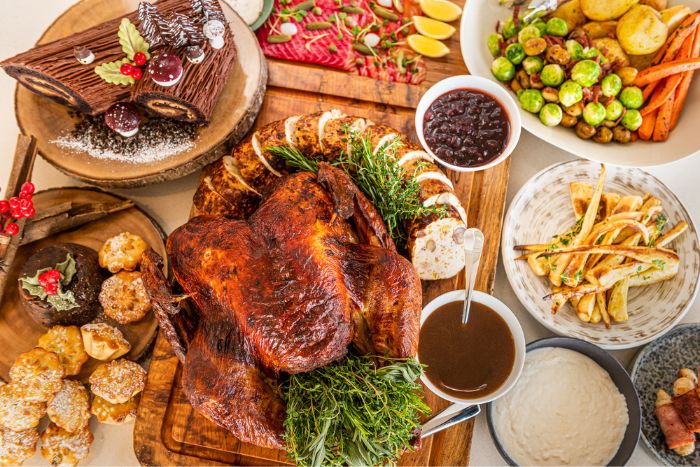 A superbly curated festive hamper that brings the glamour of a five-star feast straight to your door with a traditional roast turkey taking centre stage. The perfectly prepared bird is served with colourful and tasty trimmings such as golden herb-roasted potatoes, fresh parsnips and carrots, aromatic turkey gravy, and even more delectable sides. Or if you prefer, order a rather succulent, roast beef. All suitable for eight to 10 persons, there are also delectable desserts in the offing too, and a rather stunning Yule Log.
Call 02 811 5555 or visit festiveseasonabudhabi.com
The St. Regis Abu Dhabi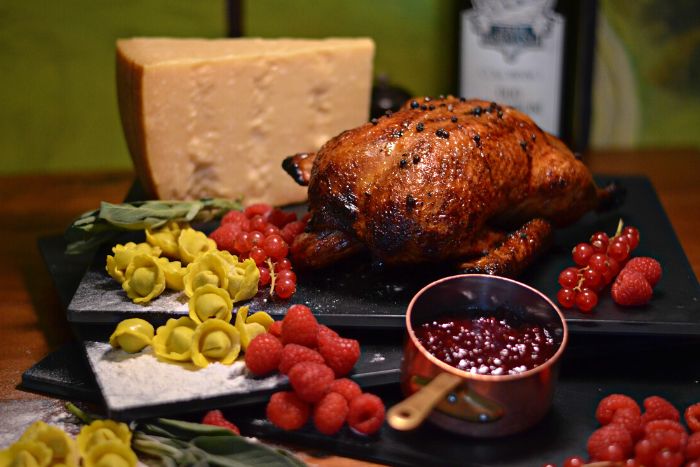 Spend quality time with your loved ones and relish the traditional slow-roasted herb turkey with chestnut and sage stuffing complimented with plenty of flavour from The Terrace on the Corniche. Appetisers included do not forget the sweet mince pies to conclude your delightful festive meal. Call 02 694 4553
The St. Regis Saadiyat Island Resort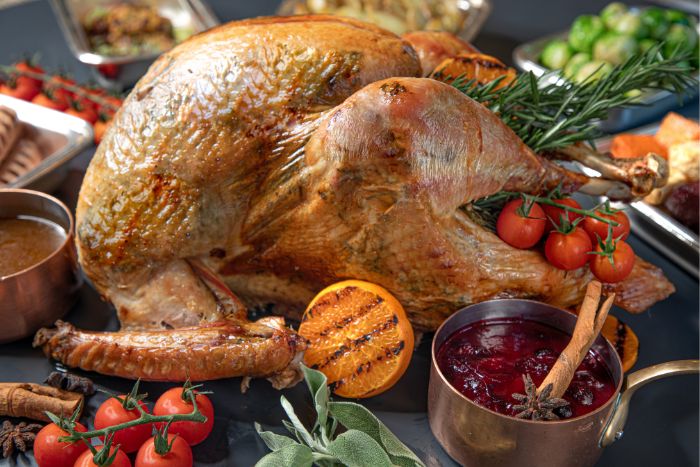 Bring home a majestic banquet consisting of a slow-roasted herb turkey with chestnut and sage stuffing with roast baby potatoes, roast root vegetables, chipolata sausages, gravy and cranberry compote. There is also an option to tap into their scrumptious signature dessert selection. Call 02 498 8888
Saadiyat Rotana Resort & Villas – Abu Dhabi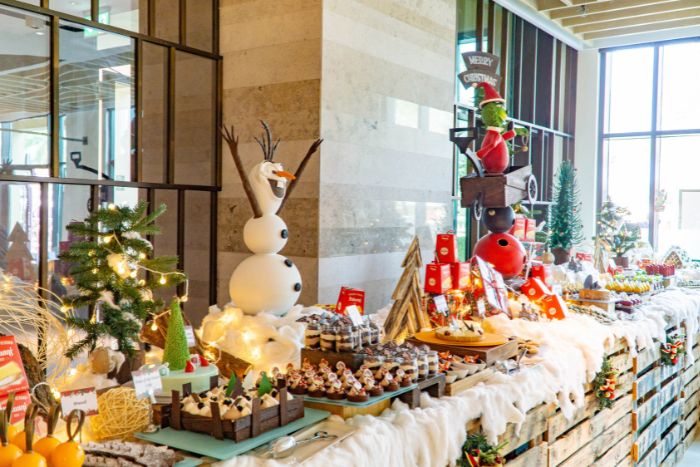 Have yourself the ultimate Christmas Turkey Takeaway courtesy of Sama Lobby Lounge. This beast of a feast is delivered with traditional stuffing, cranberry sauce and all the sides you can muster. Topped with a generous serving of turkey gravy, it is pretty perfect. Call 02 697 0000 or email [email protected]
W Abu Dhabi – Yas Island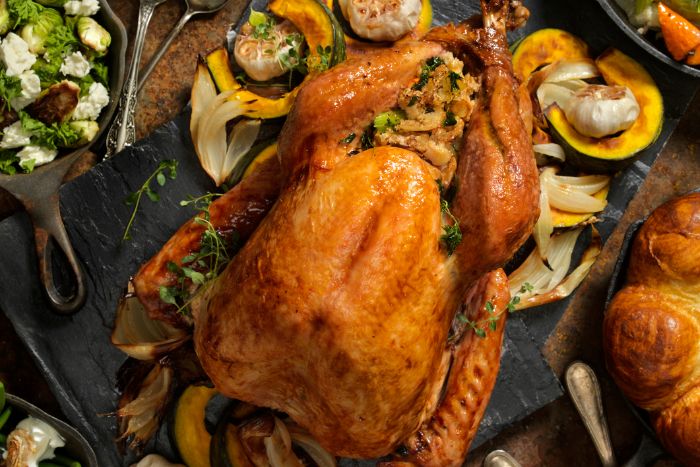 There is nothing better than donning your festive attire and sipping a refreshing drink with your favourite people. And then there is the W2GO Turkey to cover your party plans with a fully-fledged roast. The succulent turkey comes with infinite sides and sweet pumpkin pies that will make your festive dinners the best on the block. Call 02 656 0000 or visit wabudhabidining.com
Jumeirah at Saadiyat Island Resort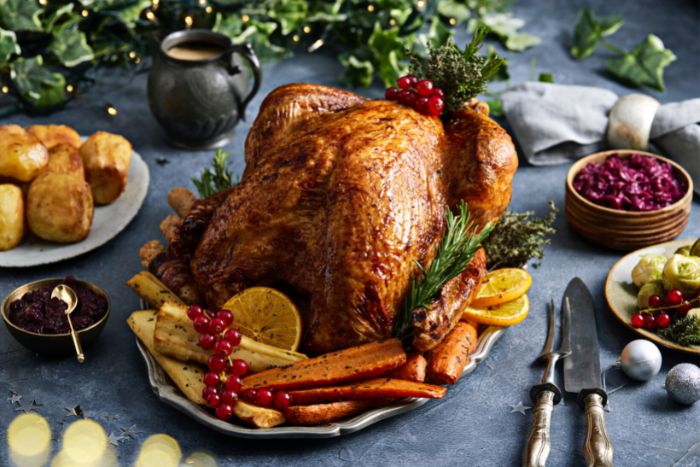 This Turkey on the Go will have you choosing between festive surprise bread or a selection of canapés to start the festivities off, before savouring on traditional Honey Glazed Slow Roasted Turkey or a Roast Leg of Lamb spread. Finish off with indulgent desserts including the classic Yule Log, fruit cakes, pecan maple pies, and more. Call 02 811 4342 or email [email protected]
Rosewood Abu Dhabi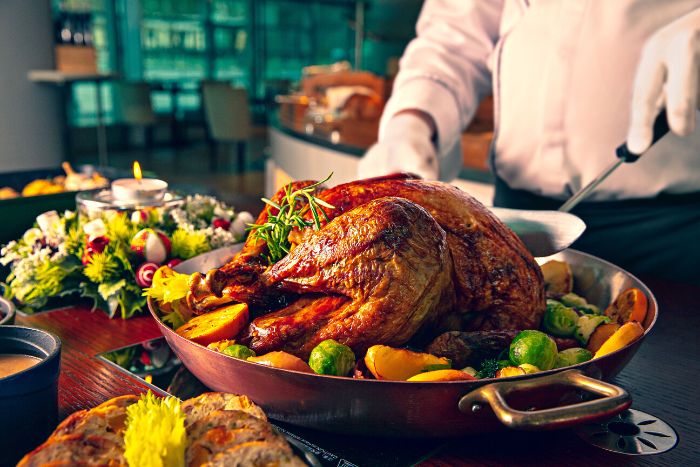 Bring home the flavour of Rosewood with this takeaway from Majlis. Feast on an extravagant succulent turkey from the US accompanied by revelatory sides and sauces.  Book at least 24 hours in advance for this expertly crafted and lavishly presented feast. Call 02 813 5537 email [email protected]
Marriott Downtown, Abu Dhabi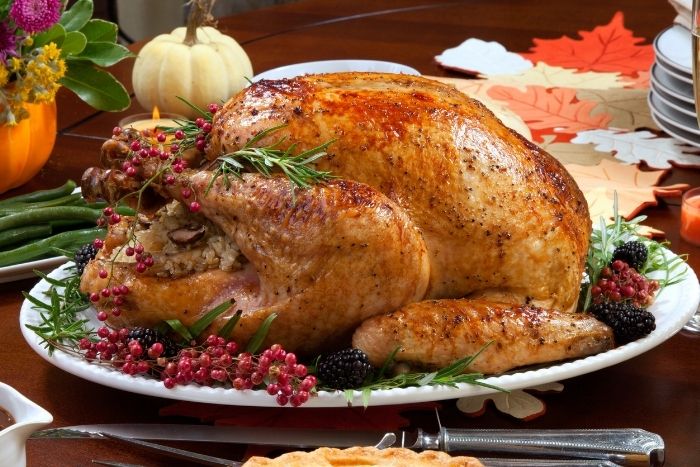 This Festive Turkey Takeaway from the hotel's Central Grounds allows you to savour the expertise of one of the best culinary teams in town in your own home. Tuck into a perfectly cooked turkey, served with traditional apple bread and sage stuffing, cranberry sauce, delicious gravy and a choice of three appetising sides. Call 02 304 7777 or visit marriottdowntownabudhabilife.com
Sheraton Abu Dhabi Hotel & Resort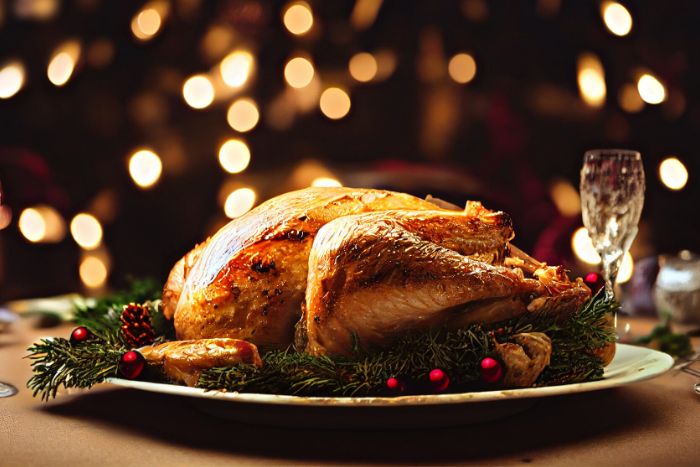 For the month of December, your Turkey To Go could very easily come from Le Bistrot and make the festive season even more merry. Served with all the trimmings, all you need to do is order 48 hours in advance to receive a medley of roasted vegetables and an assortment of side dishes to boot. Call 055 367 5083 or email [email protected]
Marriott Al Forsan Abu Dhabi
This feast will have your guests craving for more after they relish on a rather a juicy turkey and traditional, festive cuts. Served with all the trimmings including sautéed butternut, sweet potatoes, honey-glazed carrots, and sauces to match, you can also enjoy discounts of up to 25 per cent. Call 02 201 4000
Radisson Blu Abu Dhabi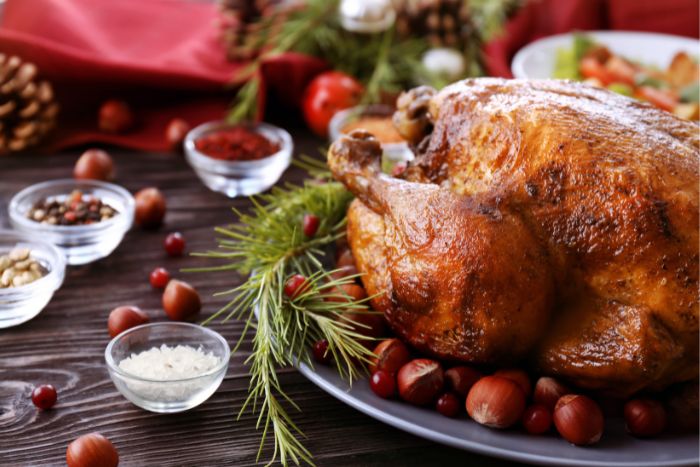 Vienna Plaza is offering a delectable slow-roasted Take Away Turkey marinated with fresh herbs. Savour sides of rock-salted potatoes, honey-mustard-glazed carrots, and buttered pan-sautéed brussels sprouts as you bite into a rather juicy turkey with roasted buttered chestnuts, cranberry sauce and roasted turkey jus with fresh rosemary. Call 02 692 4999 or email [email protected]
Hilton Abu Dhabi Yas Island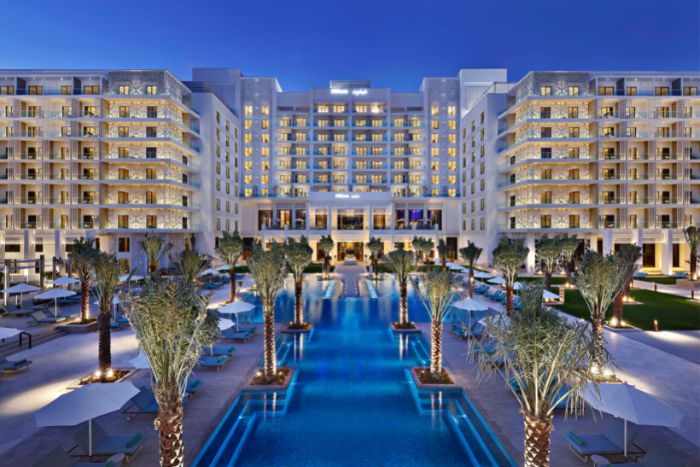 This perfectly cooked butterball turkey complete with all the trimmings and a plethora of desserts is yours for the taking. Available for a month starting 7 December, place your order two days in advance to enjoy a mouthwatering, and expertly cooked, traditional festive feast with all the trimmings. Call 02 208 6900 or email [email protected]
WB™ Abu Dhabi, Curio Collection by Hilton
Marinated in citrus and herbs, this succulent turkey comes with cranberry sauce, turkey gravy and dinner rolls. Choose up to four side dishes and two sinfully indulgent desserts! Available from 1-25 December, place your order at least 48 hours in advance. Call 02 815 0000 or email [email protected]
Le Meridien Abu Dhabi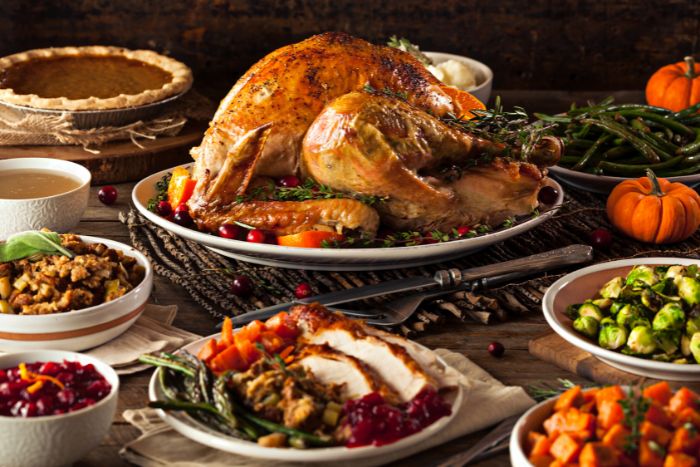 The Christmas Turkey Takeaway from Le Meridien Abu Dhabi is an irresistible lavish spread comprising perfectly roasted meat served with sourdough bread stuffing with sausages, autumn roasted vegetables, Brussels sprouts with veal bacon, wild mushroom, sautéed drunken shallot, baby potatoes, glazed chestnut, cranberry sauce and traditional gravy. Save room for an array of desserts including apple pies and more. Call 056 688 5361 or email [email protected]
Beach Rotana Abu Dhabi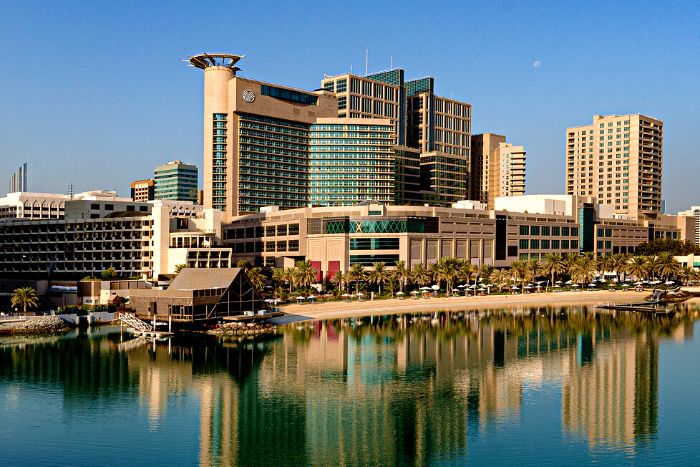 If you're daunted by the prospect of rustling up a celebration from scratch, Beach Rotana Abu Dhabi is at your service. Till 26 December, book a festive takeaway with the hotel and get foie gras, homemade smoked salmon with a whole roast butterball Turkey served along a long list of sides. Call 02 697 9186
Park Rotana Abu Dhabi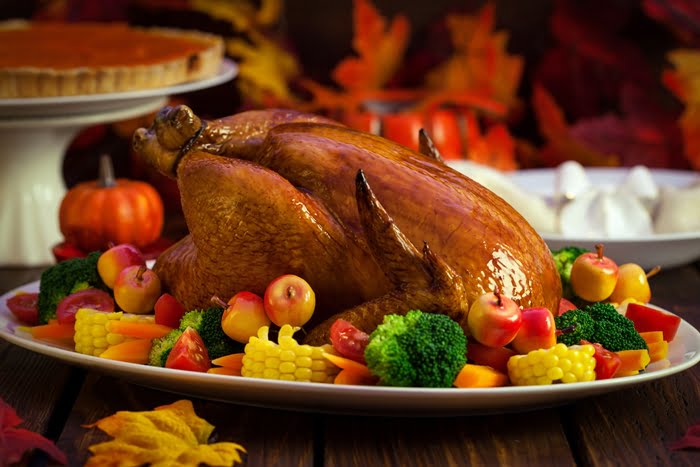 Until January 7, take away a traditional festive meal from the hotel's lobby, ParKafe which offers a whole roasted turkey. From starters such as foie gras and Scottish salmon to the big bird, you don't have to worry about a fantastic celebration at home. Make sure you do not miss the pastry chef's sweet masterpieces! Call 02 657 3319
Khalidiya Palace Rayhaan by Rotana Abu Dhabi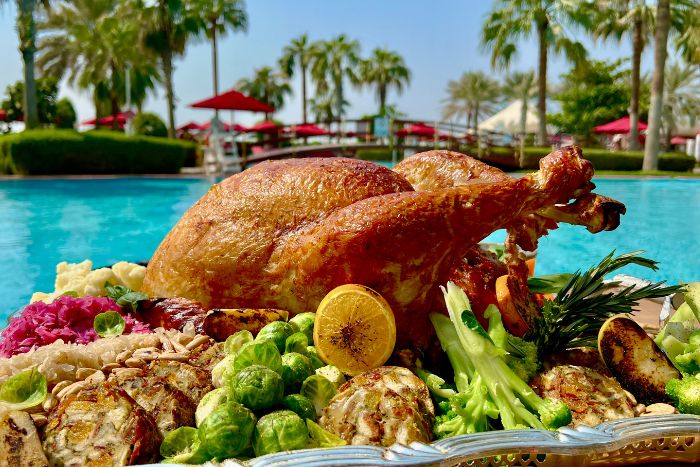 Choose between the Honey and Rosemary Roasted Turkey, Roasted Beef Angus Rib Eye, or Grilled Salmon Steak for an epic meal, accompanied with dynamic sides and sauces. The pastry chef is in a league of their own, offering everything from the classic Yule Log to an entire delicious Gingerbread house!  Call 02 657 0000
Pearl Rotana Capital Centre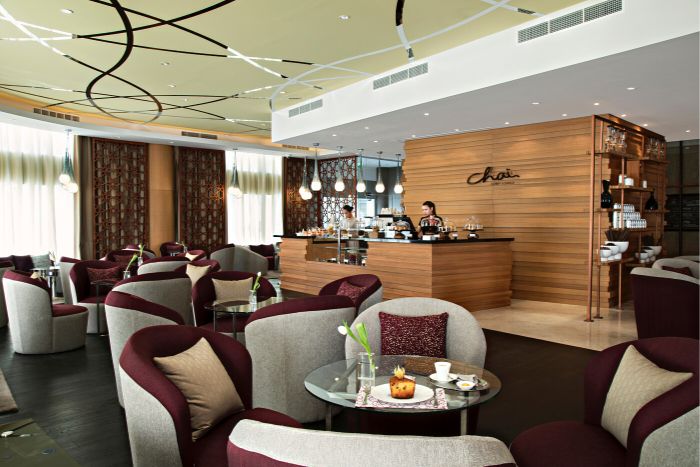 Not one, but three restaurants are armed with the most tantalising turkey takeaway. Place your orders at Chai, C-DELI, or Tamarind for the most fantastic spread that includes a 24-hour brined tom turkey, flavourful sausages, apple & sage stuffing, oven-roasted vegetables, buttered mashed potatoes with chives and a delightful giblet gravy with cranberry sauce. Call 02 307 5550 or email [email protected]
Radisson Blu Al Ain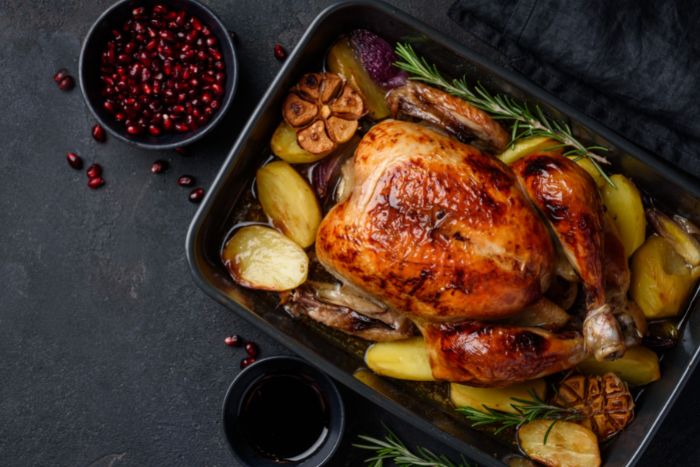 The Turkey Takeaway at Palm Court offers a generous festive serving for two weeks starting 14 December. The decadent spread includes a starter, festive trimmings, roast potatoes, roasted vegetables, sauces and homemade those oh so sweet mince pies to finish off.
Call 056 6853832, or email [email protected]
Anantara Eastern Mangroves Abu Dhabi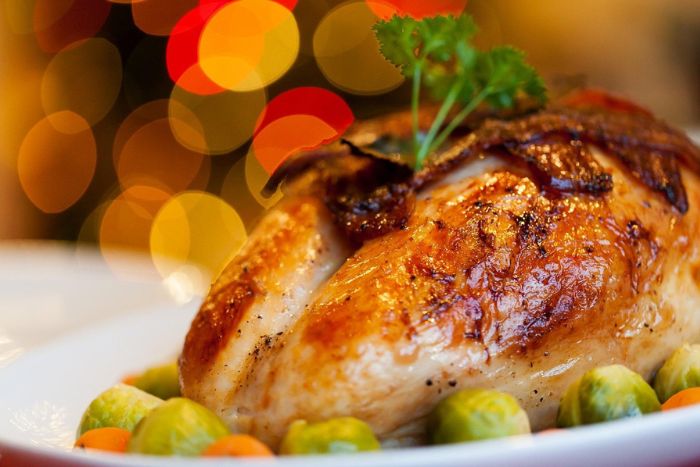 Order this and you are promised unforgettable memories. Each succulent turkey is served with roast potatoes, sweet potatoes, roast carrots, mixed steamed vegetables and Brussel sprouts, with more payable optional sides. Call 056 503 5121 or email [email protected]
Yas Acres Golf & Country Club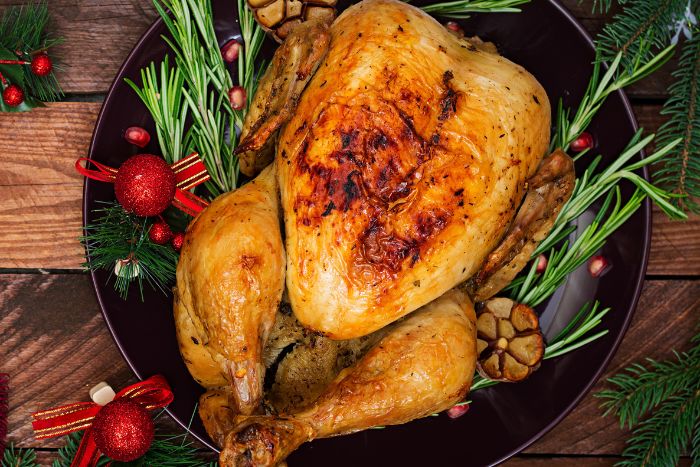 An entire roasted Festive Turkey perfect for up to 10 persons awaits. Available from 21 November to 29 December, this delicious beauty is delivered with apple bread stuffing, caramelised chestnuts and cranberry sauce with two complimentary side dishes.Call 050 757 4808 or email [email protected]
Yas Links Abu Dhabi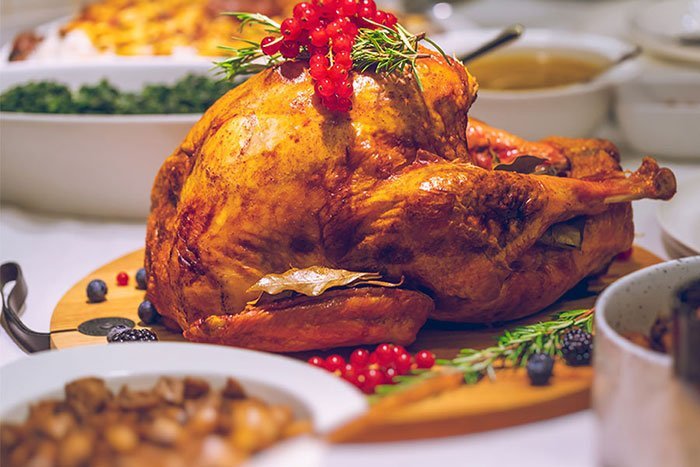 From 21 November to 31 December, this blissful spread of perfectly roasted turkey served with chestnut stuffing, seasonal vegetables, carrots, potatoes, cranberry sauce and gravy is delivered straight to your door. While a two-day advance order is required, it also helps if you are a member. Call 02 404 3077 or email [email protected]
Saadiyat Beach Golf Club Abu Dhabi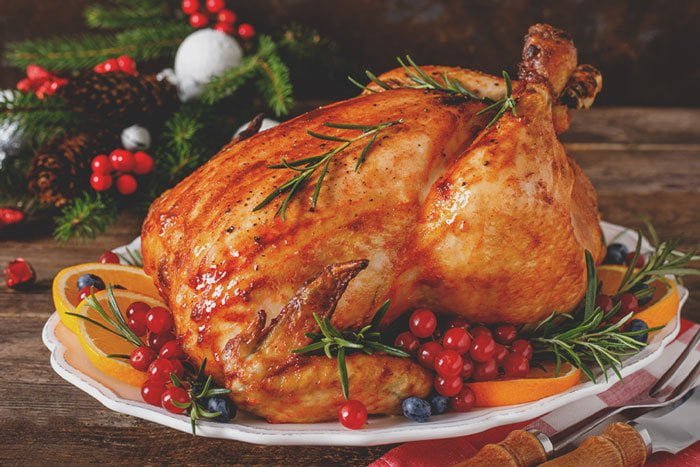 Hawksbill restaurant is offering a home-cooked, traditional roast turkey and some baked treats for you to enjoy at home. Savour a whole turkey served with chestnut stuffing, seasonal vegetables, carrots, potatoes, cranberry sauce and delicious gravy. Call 056 660 8780 or email [email protected]
Follow Yalla – Abu Dhabi Life for all the latest news across the capital and beyond
Image source provided, Pixabay
Looking for more Christmas events?