World cup winning captain Eoin Morgan and Ireland superstar Paul Stirling will take sessions this spring.
PARTNER CONTENT: The unmistakable crack of leather meeting willow sends up a chorus of "catch it!" before giving way to a series of cheers as the fielder follows through on the urges of his teammates and removes the batter from their crease at Zayed Cricket Stadium.
It's a regular scene for the 300 boys and girls who don their pads and helmets eachweek at the Zayed Cricket Academy run by Abu Dhabi Cricket at the majestic sports facility, and your kids have the chance to join in on the fun with Abu Dhabi Cricket's Spring Smash masterclass camp.
Running from 4 to 8 April, children aged between eight and 12 years, and 13 to 18 years will have an opportunity to bowl, bat and field under the guidance of world class coaches at world class facilities in the junior and senior programmes respectively.
Priced at AED 500 for two days or AED 800 for five days, Manager of Cricket Operations at Abu Dhabi Cricket, Mervyn Pereira, says the spring camps have been designed to both introduce newbies to the sport and help them fall in love with cricket, while also offering guidance for more experienced players looking to improve their bowling action or stroke play.
He says: "The programme is for everyone. It doesn't matter if you played before or not.
"The programme will include an introduction to the sport. For the juniors, it will be more recreational based and for the seniors, it will be skill focused with match-based scenarios and simulations. Cricket is for everyone and there's no better way to enjoy it than to get involved."
International superstars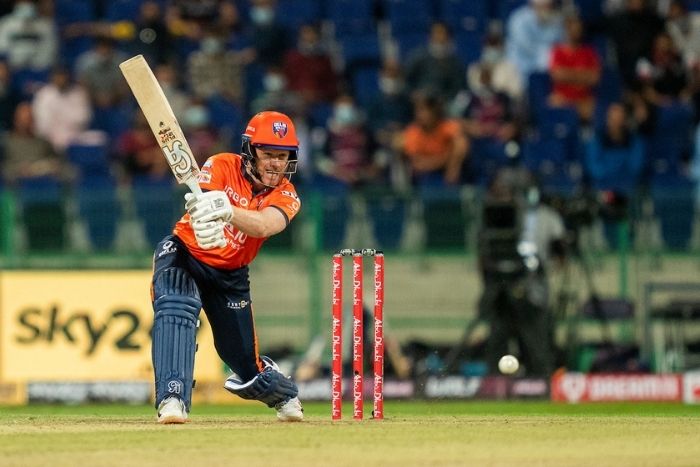 If your child does intend to pitch up this April at the Zayed Cricket Stadium, there is the incredible prospect of being coached by two of the best players on the planet.
England's World Cup winning captain Eoin Morgan and Irish superstar Paul Stirling will be on hand to provide kids with some fascinating insight on how to improve their techniques and overcome challenges in the game through the coaching programme, as well as a Q&A session where they will answer any question you and your child may have.
And if that wasn't enough, all cricketers will receive a Zayed Cricket Academy shirt and signed branded bat. Should you be travelling from outside Abu Dhabi Cricket, special hotel packages have been curated for families to stay over in the capital while their children enjoy the cricket.
You can sign up to the spring camp by visiting Abu Dhabi Cricket online.
World class facilities
The spring camp is part of Abu Dhabi Cricket's vision to introduce the sport to more children in the emirate and the wider UAE. Running programmes throughout the calendar year, children from the under 6s to under 18s will have an opportunity to learn under the tutelage of top-class coaches where they train and play an state-of-the-art facilities.
"Our vision is to encourage as many kids to take up the sport and you don't have to be at an elite level to play," says Pereira. "We push for kids of all levels, irrespective of your skillset, we want to introduce you to the sport. You can be 16 and never touched a ball or bat before but you can still come down and learn the sport here. Everyone is welcome here.
"Our facilities are world class. A couple of days ago we had our under 12s' team playing in the stadium so the kids have a chance to play on the same pitch that Eoin Morgan may have batted on the night before and that is very special.
"We have access to the best players in the world. Last week we had Sir Alastair Cook and Tom Banton run a session for the kids so it's not only coaches that are full time here but we have the best players and coaches across the globe conducting various camps and masterclasses.
"We have a very multi-cultural group as well with our coaches being women and men from all parts of the world. We have a great setup."
An ever-growing community, the Zayed Cricket Academy offers a two-pronged approach with the fun and recreational side of the sport working in tandem with high-performance.
And our more inexperienced cricketers won't have to face the prospect of being on the receiving end of a Jofra Archer-like bouncer until they are ready to face the hard ball, says Pereira.
"We start with soft equipment and they gradually progress at their own pace. Then we will slowly introduce them to hard ball cricket and when they are comfortable, we will push them into more serious groups where those aspiring to cricketers will be."
Girls' cricket is also a burgeoning programme with 25 girls enrolled in the academy currently. An area identified for growth, Pereira says Abu Dhabi Cricket expects female participation through the age-groups to grow.
"Women's cricket is a big push for us. At present, we have 25 girls playing in the academy but the next couple of terms we expect women and girls' participation to grow.
"Our philosophy is that cricket is a sport for everyone, no matter your age, race or gender."
Term 3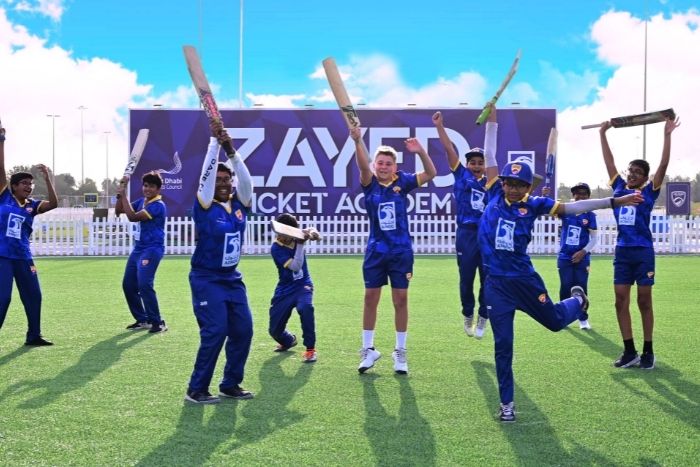 And if the prospect of only a week's worth of cricket is too little for your child, the great news is that the Zayed Cricket Academy's Term 3 schedule will begin on 11 April.
Offering 12-weeks of coaching and match play, your child will enjoy three coaching sessions per week as well as a match to put what they have learned into practice.
But that's not all.
The term will see cricketers have access to a nutritionist and international standard strength and conditioning coaches so your child will truly eat, sleep and breathe the game of cricket.
Early bird packages are now available until 25 March online at Abu Dhabi Cricket.
For more information on any of the above call 050 470 9033 or email [email protected]
Image source provided