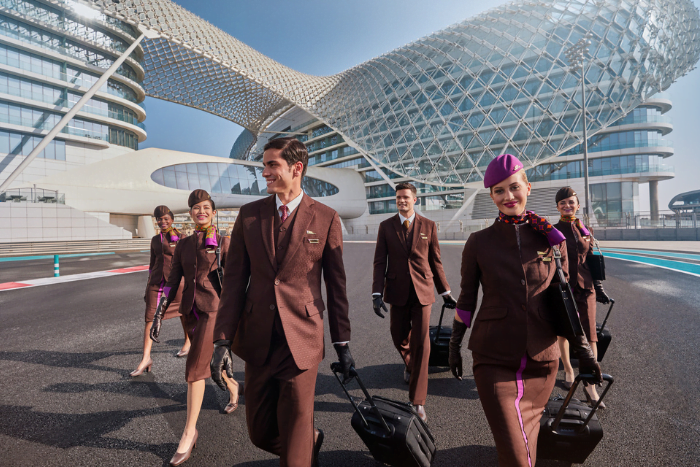 The Etihad Airways is offering you a chance to travel the world for a living.
Head to the skies for the ultimate adventure while delivering world-renowned customer service.
Etihad Airways, the UAE national flag carrier and award-winning airline, is on the flight path for recruiting globe-trotting cabin crew.
Successful candidates, who will be based here in the UAE capital, will make up a diverse cabin crew team made up of more than 150 nationalities that currently fly to 64 destinations around the world.
Being based in Abu Dhabi means, of course, that successful candidates will get access to all the trappings of this brilliant city, such as its warm hospitality and culture, safety, stunning beaches, award-winning restaurants and nightlife, with endless opportunities on the doorstep to explore the arts, entertainment and lifestyle activities.
There are heaps of benefits too – think fully-furnished accommodation in Abu Dhabi, a competitive salary, medical insurance, and fantastic travel benefits for the cabin crew and their friends and family, not to mention discounts on food and beverage and leisure activities.
The recruitment drive is taking place during the entire month of January. Anyone interested in travelling the world for a living should take their CV to the open days listed in the next column.
Shortlisted candidates will be invited for an interview the very next day.
Open Days
Bratislava, Slovakia
Sheraton Bratislava Hotel
CV Drop on 24 January from 9am to 6pm
Assessment Day 25 January
Istanbul, Turkey
Radisson Blu Hotel
CV Drop on January 25 from 9am to 6pm
Assessment Day 26 January
Madrid, Spain
Melia Madrid Princesa
CV Drop on 30 January from 9am to 6pm
Assessment Day 31 January
For more information, visit careers.etihad.com