Refurbishment and exciting upgrades make this community hub ready for the entire family regardless of your fitness level. 
PARTNER CONTENT: There have been some changes in the Abu Dhabi suburb of Khor Al Maqta. And all of them are good.
First, there was the unearthing of Erth, when an Abu Dhabi stalwart gained a new identity, causing a ripple of excitement across the UAE's hotel and leisure sector. 
The unique landmark, a community destination noted for its warm Emirati hospitality, cuisine and, importantly, recreation, now has a brand-new identity…and it is looking good.
The transformation of the resort is well underway and is expected to be completed by 2022 and at the very centre of it all is the resort's recreational facilities, a true community hub for the entire family.
This too has undergone change.
Etizan: Equilibrium on Erth
Achieving balance is a fundamental pillar of physical and mental wellbeing, which is a core philosophy at Erth.
Etizan – the new brand name of the resort's recreational facilities – effortlessly expresses the idea of equilibrium, making it a fitting concept for this new fitness brand that is in the process of refurbishment and exciting upgrades, fit for the entire family at all fitness levels.  
Far from being a typical gymnasium, Etizan places the community at the very heart of what it does.
The fitness and health offering provides a comprehensive range of facilities, including one of the largest mixed gyms in Abu Dhabi. There are also a myriad of sports and training programmes for all levels of participants, from amateur to professional.  
There is something for everyone – mum, dad, the little ones and singles. The little ones can easily be dropped off at any number of sporting academies and classes while parents attend to their own fitness and wellbeing programme. In short, Etizan takes you on a journey to be the best version that you want to be.
The facilities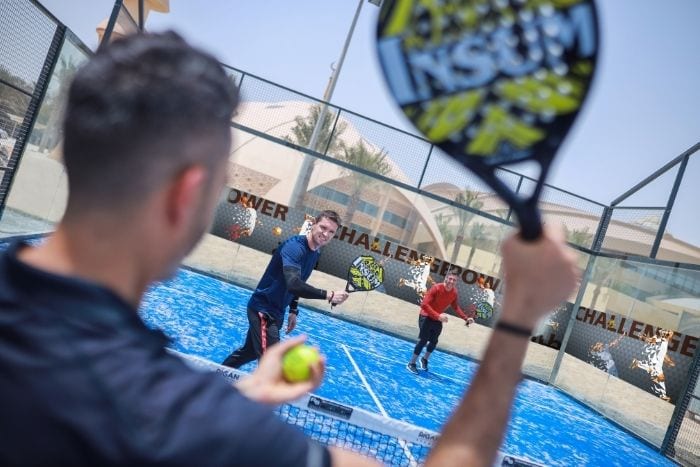 Etizan encompasses one of the largest mixed and female-only gyms in the capital fitted with the latest Technogym equipment. 
The 58,000sqm expansive facility also includes a 50m, eight-lane Olympic sized indoor swimming pool, dedicated training studios, padel tennis facilities, and indoor and outdoor artificial and natural football pitches along with a soon-to-open Blue Flag certified beach and outdoor pool.
Swimming
An eight-lane, indoor, Olympic sized pool is available for private lane rental, along with a beginner's pool, kids pool operation and ladies only sessions.
Football
A range of artificial and natural, indoor and outdoor pitches for training and matches. Sizes range from five-a-side to a FIFA-certified 11-a-side pitch. There are even referee services, as well as boot and ball rental.
Gym Facilities
The Etizan 3,670 sqm gym is dedicated to mixed and female-only fitness and offers the largest mixed gym in Abu Dhabi, with an array of indoor and outdoor equipment for people of all ages and fitness levels. With the very latest in equipment, the facility also has dedicated training studios, group classes and personal training opportunities with highly qualified trainers.
Racquet sports
Squash, tennis and a newly added padel tennis space, which is currently the biggest growing sport in the UAE.
Air Dome
The perfect space for those scorching hot UAE days, this temperature-controlled dome features four courts – one rubber floor court, three artificial grass courts and accommodates no less than six-a side, 3m by 2m goal posts, tennis and volleyball nets, and pro-level basketball hoops
Academies
The academies at Etizan are far reaching and include one of the largest gymnastic academies in the UAE – Little Stars, along with one of the biggest swimming academies too, entitled Fourth Lane.
Others include Global Tennis Academy for tennis and padel tennis; Football Academies include Manchester City, Real Madrid, French Academy, Soccer Stallions and AFOC Academy, not to mention a summer camp that is set to launch in the coming weeks. 
After training or a game, treat yourself to a sports massage by many of the experienced therapists, or indulge in a steam bath and Jacuzzi to support your relaxation and recovery.
For more information on facilities ad memberships, visit etizan.ae