Focus on your self-care and development with these yoga classes.
This year is all about focusing on yourself and what better way to do that than enrolling in a yoga class in Abu Dhabi.
There is a class for everyone in every setting for you to push out the stress and welcome in the positive vibes.
Step onto the mat with Yalla – Abu Dhabi Life and choose your Abu Dhabi yoga class with which to find your zen in 2022.
Saadiyat Beach Club
Pure white sand, sparkling blue water and stylish cabanas greet you as you begin your preparation for the day with a yoga class at one of the most exclusive beach clubs in Abu Dhabi.
The newly launched sessions run by Bodytree Studio vary, from those looking to get back into the yogi lifestyle to new mums looking to bond with their baby.
For more details visit bodytreestudio.com
Louvre Abu Dhabi
Place your yoga mat underneath the architectural marvel of Jean Nouvel's Dome at Louvre Abu Dhabi.
Running twice a day on Saturdays, Sundays and Tuesdays, discover the healing power of art and nature as you take in unimpeded views of the sea and the setting sun.
And when your session is finished, head inside and explore some of the majestic pieces of artwork and cultural offerings that the world-famous museum has on display.
For more information visit bodytree.com
Jubail Mangrove Park
Drawing on a variety of offerings such as sound healing, meditation and mandala drawings, immerse yourself in nature and yoga for 75 minutes every Saturday at one of Abu Dhabi's natural wonders that is so close to the city yet oh so far.
Experience a full moon class once a month as the serenity and glistening waters of the mangrove take you on a journey of relaxation and inner peace for a better you.
For more information visit yogaone.ae
The Royal Stables
Nestling in the peaceful surrounds of shrubs, mature trees and the gentle chirping of birds, The Yoga Studio at The Royal Stables is an idyllic location to enjoy a yoga class.
Set on lush lawns, challenge yourself and your body to a Vinyasa session or the newly introduced Hatha Flow Class every Monday from 4.30pm.
The studio also offers specialised courses to help loosen and align your spine.
For more information visit theroyalstables.ae
Umm Al Emarat Park
Connecting participants with their local community, this yoga experience in one of Abu Dhabi's favourite parks Umm Al Emarat sees Inner Space Centre, Seven Wellness and Flo Studio collaborate for a free wellness programme that develops awareness, mindfulness, calmness, clarity of mind and balance through a range of talks and practices every Wednesday from 6.3 0 pm.
For more information visit ummalemaratpark.ae
Bodytree Studio
A space where you can escape the stresses of the day and work on your well-being as well as your body.
Stimulating your senses with 60-minute sessions that focus on organ health, mindfulness, meditation, cardio, mobility and more, increase your energy and happiness with a session at Bodytree Studio before enjoying a refreshing drink at the in-house juice bar.
For more information visit bodytreestudio.com
Inner Seed
A holistic wellness hub for women that spreads its peaceful vibes at the Saadiyat Rotana Resort & Villas, Inner Seed takes you on a healing and empowering journey to inner growth and happiness with unique sessions that focus on removing tension, stiffness, and more.
And when you are not in the studio, build bonds and friendships on retreats and hiking expeditions around the UAE.
For more information visit innerseeduae.com
FLO Fitness Studio
Greeting you with a spa-like atmosphere, your senses will be engaged by lavender as you enter this chic boutique studio, setting you at ease for an uplifting experience.
A home away from home, the ladies' only classes at FLO Fitness Studio work on your fitness and overall balance of the body, mind and energies where you can recharge, restore and renew through Pilates, yoga, Barre and more.
For more information visit FLO Studio
YOGAONE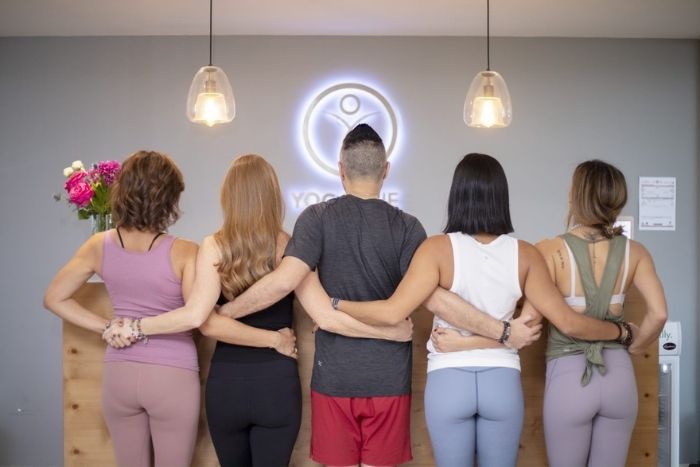 Embrace your inner acrobat with the aerial flow workout at YOGAONE studio in Mangrove One Compound or Masdar City.
You get to slip into a silk hammock and push your body to its absolute limits with a range of poses and postures to stretch your body and mind in the aerial flow class or increase the temperature with a challenging hot yoga experience where classes are heated over 37 degrees Celsius where you can truly feel the burn.
For more information visit yogaone.ae
For all the latest health and wellness in Abu Dhabi, follow Yalla – Abu Dhabi Life
Image source provided