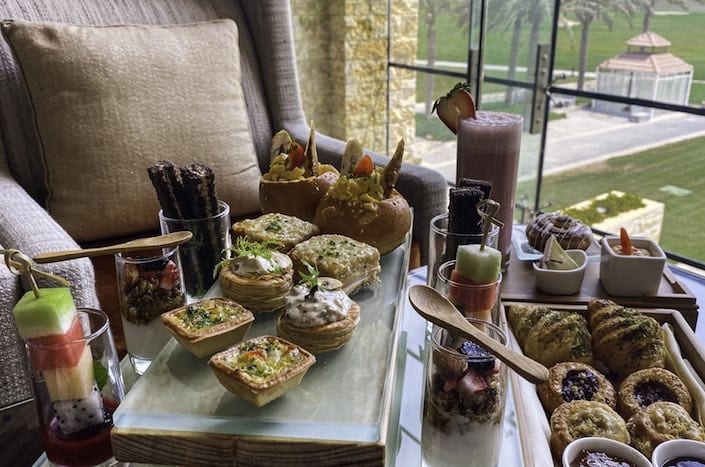 Mothers deserve the best!
Mommy Hours by the pool
It is Mommy Hour at Westin Pool! Moms enjoy an exclusive day pass at AED 70 including one soft beverage on weekdays from 8am until 3pm.
Little ones under 6 can join for free.
Pool side | Weekdays, 8am-3pm
Mommy Hours at The Lounge
Combining the famous Westin views with freshest superstars of the breakfast, Mommy Hours promises delicious treats:  Breakfast pastries – overnight oats & berries and granola in short glasses – savory mini quiche with mushrooms and bacon, mini egg muffins, fresh juices or smoothies and surely tea and coffee.
The Lounge | Weekdays, 9-12pm | AED 125 for 2 adults
For bookings, call (02) 616 9999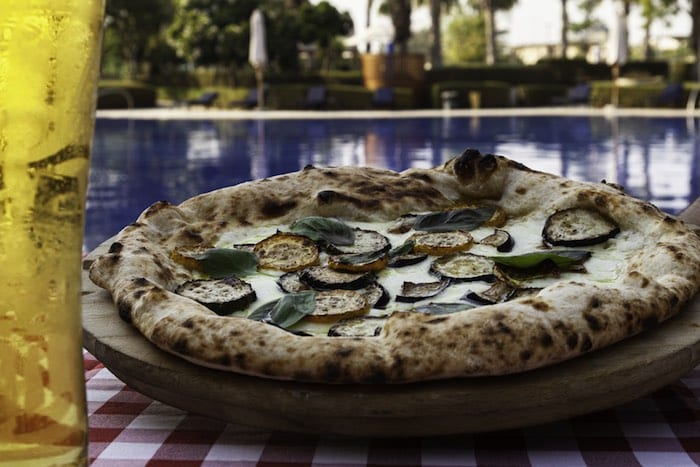 Pizza, Pint & Pool
Pizza, Pint & pool? Yes, please!  Enjoy your Saturday with Pizza & Pint & Pool! Selected Pizzas, 2 pints per person at Sacci and Pool access await you for a perfect day.
From AED 225 per adult, kids AED105
Sacci  & Pool | Every Saturday, 1pm – 5pm
For bookings, call (02) 616 9999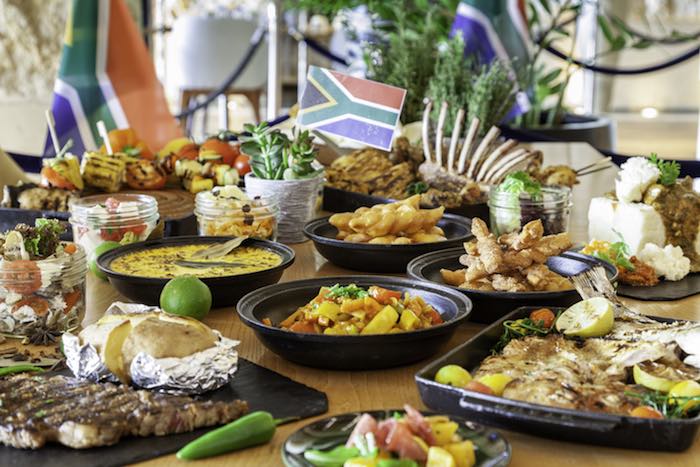 LET`S BRAAI
Fairways at The Westin Abu Dhabi brings a brand-new theme night to the capital with its unique concept. `Let`s Braai`, South African Braai & Hops night welcome its guests every Thursday from 7pm until 10pm. Diners will be offered a special buffet selection with South African delicacies and beverages.
This unique concept features an extensive array of options to satisfy different tastes including Boerewors, Chicken Skewers, Tenderloin Beef Sliders, Striploin Minute Steak, Grilled Portobello Mushroom, Braaibroodjie, Homemade Potato Wedges, Bobotie, Koeksisters, Peppermint Crisp Tart and much more as well as a wide range of unlimited beverage such as South African Sangria, hops & klippies.
Fairways is calling all foodies to experience this unique Thursday night with great South African delicacies, a wide range of beverage and vibrant ambient background music with friends and family whatever the occasion, making it the perfect place for any gatherings.
Hurry up! Let`s Braai` is offering a limited-time `2 for 1` promotion for only the first 10 guests for the launch day on Thursday, 17th of September and 24th of September.
AED 275 per person, including unlimited hops package
AED 175 per person, including soft beverages
Advance booking is required as strict social distancing guidelines are enforced.
For bookings, call (02) 616 9999, visit www.fairwaysabudhabi.com, or email [email protected]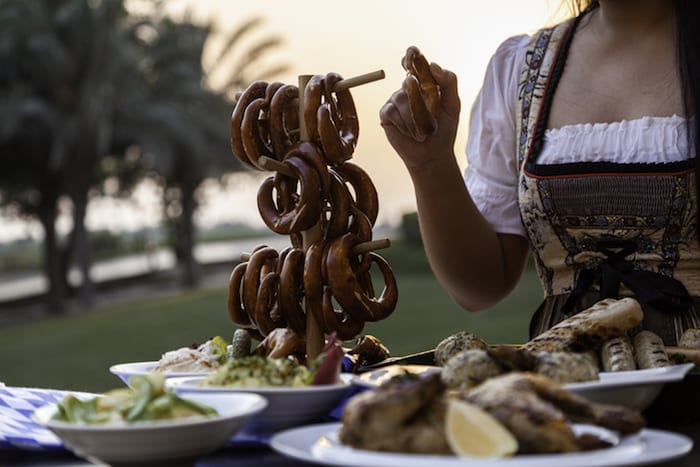 `Taste of Oktoberfest`
The Retreat at The Westin Abu Dhabi launches `Taste of Oktoberfest` with an authentic culinary journey from Wednesday, September 30th until Sunday, October 18th.
Celebrate Bavarian tradition this Oktoberfest at Westin Abu Dhabi with an exclusive culinary concept this year. The Retreat welcomes its guests with free entrance, indoor and outdoor seating areas complete with vibrant atmosphere and cozy sofas whilst background authentic Bavarian music.
A special a la carte menu will feature Pretzel Basket, Sauerkraut, German Potato Salad, Chilli Cheese Krainer Sausages, Grilled Curry Sausages, Roast Chicken, Bread Dumplings, Vienna Style Schnitzel and traditional licensed favorites such as Bavarian Cold Cut Platter, Bavarian White Sausages, Grilled Bratwurst, Barbequed Licensed Ribs and Apple Strudel. The cuisine can be paired with a range of German Hops, with prices starting from just AED 45.
The Retreat is strictly following all government health & safety regulations. The guests will be allocated on a first come first served basis.
Between Thursday, September 30th until Sunday, September 18th
Daily, from 12noon until 1am
A la carte menu – licensed meats & Authentic background music
For bookings, call (02) 616 9999
POOL & DAYCATION OFFERS
WESTIN DAYCATION PACKAGE
When you need to escape the hustle and bustle, Westin Daycation is the way to relax and stay sun-kissed through the year. The offer includes;
Access to our three pools
Daytime access to Deluxe Guest Room until 6pm
Breakfast at Fairways until 11am
Lunch by poolside including 2 house beverage, per person
The offer is subject to availability. Daily, 8am – 6pm
From AED 650; 2 adults & 2 kids (up to 12 years old)
For bookings, call (02) 616 9999 or visit WestinAbudhabi.com
POOL DAY PASS
Whether you're reclining on a sun lounger or strolling through greenery, there's always more for you to discover within the resort's beautifully landscaped grounds.
Daily, 6am – 9pm
WEEKDAYS: Adults AED 125 Kids AED 50 Kids
WEEKENDS: Adults AED 175 Kids AED 50 Kids
Monthly membership is also available. Do not forget to bring your towel
For bookings, call 02.616.9999
SHADES POOL BAR
Set beside the stunning swimming pool and surrounded by the resort's beautiful landscaped gardens, Shades Pool Bar offers variety of beverages and a selection of light food items.
Daily, 10am – 7pm
For bookings, call 02.616.9999 – available only for pool guests.
GRAPE & CHEESE TUESDAYS
Enjoy one of life's perfect pairings and take your seats for Grape & Cheese Tuesdays at Westin Abu Dhabi`s stylish lounge, Lemon & Lime. Championing an elegant ambiance, you'll be well placed to sup fine world wines, with a selection of delicious international cheeses and cold cuts, in style.
Lemon & Lime, Tuesdays, 8pm onwards
AED 169, unlimited grapes for 2 hours and a cheese & cold cut platter
For bookings, call 02.616.9999
HAPPY HOUR
With breathtaking views across the golf course, Lemon & Lime offers a sophisticated and comprehensive selection of imported beverages and creative cocktails. Enjoy Happy Hours on selected beverages every day. Enjoy buy 2 get 3 cocktails on selected menu.
Lemon & Lime, Daily, 2pm- 8pm
For bookings, call 02.616.9999
BUBBALICIOUS IS BACK
Celebrate the weekend right and raise your glass the multi-cuisine, award-winning Bubbalicious Brunch!
Experience a feast with a mouthwatering selection of indulgent international dishes from fresh sushi and oysters, an array of international live cooking delicacies, roasts and grill selections and savor more than 20 types of cheese from all over the world. If dessert is more your thing, dig into a spectacular dessert station piled full of homemade chocolates, sweets, cakes, made-to-order crepes, ice cream and sorbets.
Quench your thirst from reimagined signature drink stations, then to top it all off, be entertained throughout the afternoon with a vibrant ambient background music
Fairways, Fridays, 1pm-4am
AED 195 includes soft beverages | AED 350 includes free flowing house beverage | AED 595 includes free flowing house beverages & French Bubbly
AED 125 kids (6-12 years old) | Complimentary kids (0-6 years old)
For bookings, call 02.616.9999
TASTE TRUE NAPOLI PIZZA IN ABU DHABI
Experience 'la vera pizza napoletana' with homemade tomato sauce, Mozzarella Di Bufala, olive oil and fresh basil only at Sacci. The traditionally made dough is painstakingly prepared by Chef Stefano 48 hours in advance and baked in a wood oven resulting in a deliciously airy crust.
Sacci, Monday-Wednesday, 5pm to 7pm
Pair this with a pint of Peroni for only AED49
For bookings, call 02.616.9999
FAMILY BREAKFAST
Welcome to the tastiest breakfast in town! The Lounge at The Westin Abu Dhabi Golf Resort and Spa offers an extensive breakfast menu with something for everyone, including granola parfait, pancakes, eggs in every style, avocado on toast, American breakfast and so much more – as well as tea and coffee.
The Lounge, Daily, 7-11am
AED 300 for 2 adults & 2 kids up to 12 years/ AED50 for extra child / AED100 for per person
For bookings, call 02.616.9999
AFTERNOON TEA AT THE LOUNGE
Recharge your senses as you take a sip from the perfect cup of Jing tea or signature Coffee Planet coffee at the most relaxing afternoon tea offering in town.
Surrounded by breathtaking views of the lush Abu Dhabi Golf course, indulge in a specially curated savory selection including cucumber & cumin cream sandwich, smoked salmon on rye toast or truffle egg vol au vent. For the sweet tooth, they can enjoy classic opera cake, lemon crèmeux with pineapple caviar, matcha tea tartlet with banana & passionfruit and of course, freshly baked scones with jam and clotted cream.
The Lounge, Daily, 2-6am
Only AED 99 for 2 persons with hot beverages. Add two glasses of sparkling grape for AED 69.
For bookings, call 02.616.9999
 L'APERICENA
Enjoy the sunset with L'Apericena including a bottle of grapes and a selection of antipasti for two.
Sacci, Monday-Saturday, 5pm to 7pm
Prices of all packages AED 170 net for 2
For bookings, call 02.616.9999