Here's a list of the best screenings of the final in the capital
The football fever is in full swing and the final is just around the corner. That being said, the capital seems to be hosting a number of screenings. From poolside views, cosy cabanas seatings, a dedicated fanzone and more, there's genuinely a place for every kind of fan.
As Argentina and France battle it out on the field, there's also plenty going on in terms of themed bites and great deals to keep your spirits fuelled! Here are 15 of the best places to catch the highly anticipated final in style.
Sheikha Fatima Park
The weather's getting better, so outdoor seating options are definitely on the table. And Sheikha Fatima Park is gunning for the top spot, having pulled out all the stops to create crowd-cheering World Cup Fan Zones.
Cheer on your favourite team in a dedicated space where bites and entertainment are readily available. It's the perfect spot for more than one reason!
For more information, please visit sheikhafatimapark.com
Abu Dhabi Fanzone – FIFA World Cup(TM) Viewing Experience, Yas Links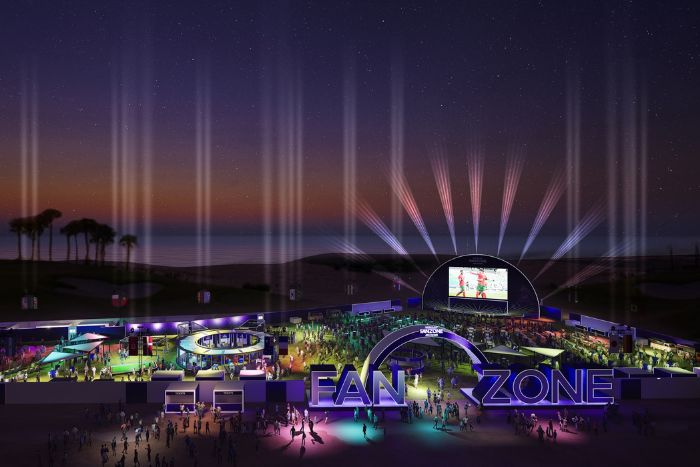 Think ultimate FIFA screening spot? Think FanZone!
Aptly named, the Department of Culture and Tourism – Abu Dhabi (DCT Abu Dhabi) has created the most epic place for at least 2,000 fans to come together and enjoy the screening. Split into four action-packed spots, there are plenty of half-time festivities, a VIP shisha lounge, an F&B zone, and of course, the main viewing zone. And just when you think it can't get any better, there's a gaming zone too!
For more information and tickets, please visit abu-dhabi.platinumlist.net/abu-dhabi-fanzone-fifa-world-cup
Velocity Sports Bar, Marriott Downtown
Your best vantage point in town, Velocity Sports Bar promises an incredible football experience. As you cheer your favourite team on, fans won't miss a single second of the final between Argentina and France thanks to 36 HD screens. And that's including the two biggest indoor football screens in the whole of Abu Dhabi. To keep those spirits up, watch out for some tasty World Cup food and beverage deals that will keep you going for the full 90 minutes and well into extra time and penalties.
For reservations, please call 02 304 7777 or visit marriottdowntownabudhabilife.com
Ray's Bar, Conrad Abu Dhabi Etihad Towers
The legendary Ray's Bar knows exactly how to keep the football crowds hyped. On offer is a two-hour free-flowing beverage package (starting from AED 299 with a bowl of chicken wings), a bucket of five hops and a bowl of fries for AED 155, and even a tower of hops and chicken wings for AED 220 (including one free pint for every goal).
And that's just the beginning of several amazing deals.
Indulge in the delicious World Cup menu between 6pm to 1am. The minimum spend for the finals on 18 December is AED 250 per person. From loaded double-smash burgers to towering piles of nachos, there are plenty of delicious bites to keep things pumping!
To book your table, please call 02 811 5666 or to find out more visit www.hilton.com/en/hotels/auhetci-conrad-abu-dhabi-etihad-towers.
Hamilton's Gastropub, Saadiyat Rotana Resort & Villas
Head to Hamilton's for the ultimate deals as you cheer on your favourite team this season. Operating from 11am to 2am on Saturday, they've created an immersive space for fans to wholly enjoy the game. Choose between indoor and alfresco seating while you sample a selection of 10 different draught hops alongside other exciting offers on board!
For more information and bookings, please call 02 697 000
LEXX, Grand Hyatt Abu Dhabi
There's a massive screen on the other end for fans at Grand Hyatt Abu Dhabi.
With gorgeous terrace views, you can catch all the action unfold with several promising deals to keep the party going. The exclusive fan-favourite menu will feature delicious jalapeno bites among other treats, as well as a complimentary bucket of chicken wings for those watching in their team's jersey! Not a fan of the outdoors? LEXX also has multiple screens in the opulent indoor lounge for the ultimate match-day viewing experience.
Minimum spend applies on premium seating for the quarter-finals, semi-finals and finals. For more information, please call 02 510 1234
c.mondo bar, Centro Capital Centre, Pearl Rotana
If the thrill of catching the world's biggest sporting action live on large screens wasn't enough, c.mondo bar's offering big prizes too! The bar offers scrumptious bites and a high-energy environment as you take in the games.
It's a good time to be here with Happy Hours on all day, which means licensed house beverages will be available for just AED 25, including spirit, hops, and grapes. There's also a line of buckets to choose from, including 1 Snack Bucket or 2 Hops for AED 90, and 1 Hops Bucket (5 bottled Dutch hops) for AED 110.
Of course, there's some serious prizes up for grabs here, including Scratch and Win opportunities on purchasing a Hops Bucket (Caps, Shirts, Footballs, Jerseys, Keyrings).
You can also play games like Guess the first goal scorer / Final Score ('90 mins) for free hops! Talk about an epic game.
For more information, please call 02 409 6514
Brauhaus Garden!, Beach Rotana
Now here's a stadium recreation we can get behind and how! For the final, Brauhaus Garden will transport you straight to the pitch, replete with a monstrous 5×3 metre wide screen.
While the sea views certainly add to the experience, there's also indoor seating with HD screens should you prefer it. And as you scream and cheer over the match, Chef Pedro will serve up some authentic German cuisine including Weisswurst, Gulasch Suppe, Knusprige Schweine Haxe and Bayrische Brotzeit paired with refreshing draft hops. Upping the ante for fun, you can also avail 50% off selected hops daily from 5pm – 6pm.
For more information, please call 02 697 9118
McGettigans, Dusit Thani
The offers here will probably have you as excited as the game, if not more! Being early here definitely pays, with a house beverage free at the end of a game if you arrived 30 minutes prior to the start. There's also a 'Buy two, Get one' offer on selected draught hops, Foodie-sharing platters starting at AED 85, as well as free-flow selected house draught for AED 225.
Think you're good with predictions? Predict the score and win hops among other exciting surprises. And of course, wearing your team jersey and arriving before kick-off is a definite pint on the house within 3 minutes of your team scoring!
For more information, please call 02 698 8137
Amici Terrace, W Abu Dhabi – Yas Island
The coolest spot in town is definitely the one at Amici Terrace. Accompanying your match thrills is a jam-packed array of culinary delights ranging from sliders, pizzas, wings and rings to name a few!
From 6pm to 1am, enjoy the World Cup final right with DJs performances, a special pass around to celebrate every score, and foosball tables to channel that excess energy. Choose between a minimum spend of AED 200 for individual entry, the Beverage Package for AED 250 (3 hours of free-flowing house beverages), and the Food Package for AED 175 (3 hours of free-flowing canapés).
Spicing things up is the chance to win a B.I.G – Brunch In Garage for 2, free rounds of drinks or even day pass access to WET DECK!
For group bookings and reservations please call 02 656 0000 or visit portal.marriott.com/w-abu-dhabi-dining/
Escape, Radisson Blu Hotel & Resort Abu Dhabi, Corniche
Football by the pool? Sure, why not.
Escape the cliche screening options in favour of a classy time at this joint, boasting a breathtaking, eight-hundred-meter coastline with a perfect viewing spot. Not just that, they also have one of Corniche's largest outdoor LED screens!
For those looking for unobstructed live streaming, there are also VIP seats with brews and foods available to share. Available as per the game timings, here's a refreshing way to dip into all that fun.
For more information, please visit radissonbluhotels.com
Le Meridien Village, Le Meridien Abu Dhabi
Enjoy the football season on one of the largest LED screens in the city, alongside themed seating options. As the Once Duo Band serenades, choose between different seating areas and benches with a minimum spend starting at AED 800 per bench (preliminary/initial season games). With nibbles, halftime festivities, and the most gorgeous decorations, it's the most on-point way to catch all the action while in the capital.
For more information, please visit marriott.com
B-Lounge and Tavern, Sheraton Abu Dhabi Hotel & Resort
Cosy vibes or authentic British pub? Sheraton Abu Dhabi Hotel & Resort have them both covered for the highly anticipated sporting final lined up.
The B-Lounge multiple outdoor screenings offer a range from cozy cabanas to sun lounges, as well as a stadium-like amphitheatre with comfortable Arabic seating. Watch the football game with hubbly bubbly by your side.
For an authentic English pub vibe, Tavern's got your indoor intimate vibes down pat. With a minimum spend of AED 100 per person, it's a classy vibe without burning a hole in your pocket!
For more information, please visit marriott.com
Maté, Park Hyatt Abu Dhabi
Classing it up this World Cup? Then there's no place better than here.
Complimenting the drama of the season is the vibrant and dramatic culinary experience offered at Maté. While you roar in support of your team, the culinary quotient is taken care of deliciously through Argentinian cuisine with a contemporary Lebanese twist. Combined with the unpretentious environment that's still sophisticated, this is one of the best ways to enjoy the match with loved ones.
For more information or bookings, please call 054 5812576
Khalidiya Palace Rayhaan by Rotana
Whether you're hungry for soccer, good company, or taste excellent food, Khalidiya Palace Rayhaan by Rotana is exactly what you're looking for!
From 1pm to 12am at Sunset Garden, cheer on your favourite team while enjoying a special menu perfect for the vibes of the game. Featuring your favourite snacks from the famous Impossible burger, Battered Fish 'n' chips and more, the meal starts with a minimum spend of AED 100 including food and drinks.
Please call 02 657 0000 or e-mail [email protected]
Follow Yalla – Abu Dhabi Life for all the latest news across the capital and beyond
Image source Khalidiya Palace Rayhaan by Rotana, Park Hyatt Abu Dhabi, Sheraton Abu Dhabi Hotel & Resort, Le Meridien Abu Dhabi, Radisson Blu Hotel & Resort Abu Dhabi, Corniche, W Abu Dhabi – Yas Island, Sheikha Fatima Park, Yas Links Abu Dhabi, Saadiyat Rotana, Grand Hyatt Abu Dhabi and Conrad Abu Dhabi Etihad Towers