An Aldar Academies' Al Ain Academy student has only gone and launched her own business and it's doing great!
An Emirati entrepreneur aged just four-years old has launched Rainbow Chimney, an online book company.
AlDhabi Almheiri, a student at Aldar Academies' Al Ain Academy is enjoying success with her online book business, two years after launching.
AlDhabi says her teachers at Al Ain Academy incorporate fun teaching styles which helped Rainbow Chimney to start its journey.
Rainbow Chimney offering unique boxes containing books and educational toys for children between the ages of three to nine.  
Aldhabi had the full support of her loving parents, of course, when the young entrepreneur developed the idea from a simple box of educational toys for her friends at school, transforming it into an online website offering books and customised boxes.
Developing her love for reading at the tender age of three, AlDhabi spends her time reading books on astronauts and science.
With a passion for reading, coupled with the support of her family and school, AlDhabi began putting together boxes of tools and books which she believed would make learning fun for children.
The student's 'Space Box', the first in a series of educational boxes, was a great hit among family and friends, and inspired other themed boxed like the 'traditional Emirati box' and 'little doctor box'.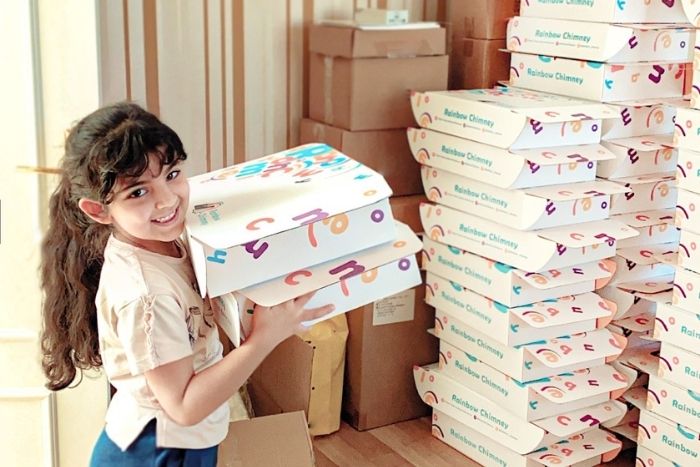 Now aged six and a half, the young student has grown her project to encompass more than just themed boxes.
As her project gained traction, customers began to order customised boxes with other books and toys, and the project developed into an online platform offering more than just the ready-made boxes.
Mouza Al Darmaki, AlDhabi's mother, said: "I want to remind parents of the importance of believing in your children's abilities. I am proud of AlDhabi's determination and creativity.
"Through supporting her and providing her with the outlets to express her creativity, I watched her project grow from a simple box to a fully-fledged platform that features different books and boxes that children can make use of.
"I am looking forward to sharing AlDhabi's ideas with the world and to inspire other children to share their talent with the world."
When asked about her aspirations for the future, AlDhabi stated that her wish was for children around the world to have access to Rainbow Chimney and see how fun learning can be.
For AlDhabi, the inspiration behind creating this project was her teachers' readiness to incorporate fun teaching styles to deliver important lessons at her school, Al Ain Academy.
To support this young entrepreneur by buying 'Rainbow Chimney' educational boxes, or to purchase children's books in English or Arabic, please visit: www.rainbowchimney.ae.