Live your summer story with Rotana and choose from city breaks to beach vacays.
Luxury hotels and resorts, intriguing desert landscapes, majestic mountains, world-class cities and UNESCO heritage sites interlink to form a rich tapestry that make this young Gulf state a fascinating place in which to vacay and Rotana Hotels has the perfect locations from which to enjoy them all – there's even 20 per cent off bookings
Beach & mountain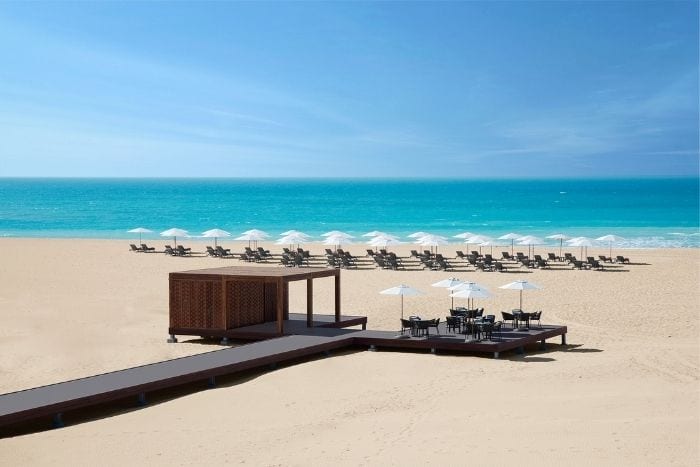 If you are unable to decide between a mountain or beach staycay, then Fujairah Rotana Resort & Spa is for you. This superb resort has all the trappings of beach life, yet its location close to the Hajar Mountains means a trip to cooler climes is also possible. 
The resort's setting is simply superb, with lush greenery and 2.5km Al Aqah Beach, making it the perfect place to stroll to catch those stunning sunsets. 
Incredible island life awaits at Saadiyat Rotana Resort & Villas, Abu Dhabi. You'll be sharing your staycay with indigenous Hawksbill turtles on pristine white sands. 
With seven superb restaurants and cafés serving up an international fare, a spacious kids club, tennis courts, gym, spa and more, it's hard to imagine why you'd even need to leave the resort. 
But if you do get itchy feet, Saadiyat Island Cultural District, home to the capital's cultural hub such as the Louvre Abu Dhabi, is nearby, as is the UAE's favourite leisure and entertainment playground with 100s of rides and attractions. 
City breaks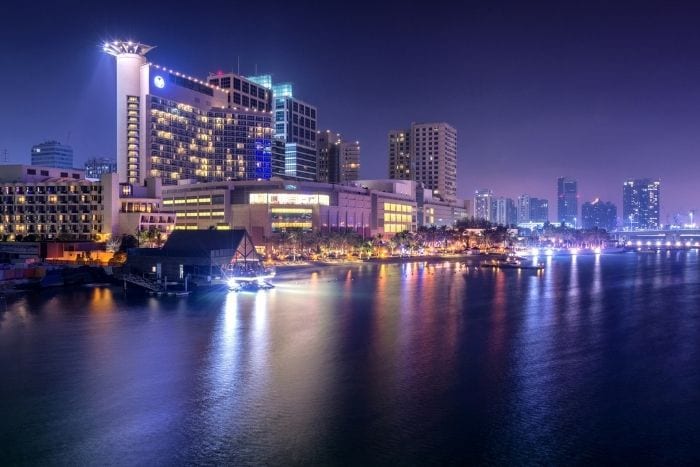 For those who prefer an urban setting, Rotana has four distinct properties for that ultimate dynamic city break. 
Al Jaddaf Rotana, Dubai, ideal for large families, is perfectly placed for those to partake in some retail therapy. Dubai Mall, the world's biggest mall, and Dubai Festival City are within easy reach. 
Book here and you'll get tickets to the thrilling Laguna Waterpark tickets too, and an array of discounts at the hotel's dining outlets.
Prefer a city beach-side hotel? Then choose the Amwaj Rotana, Dubai. 
It's all about luxury here and the fabulous beach setting. You'll have a balcony overlooking the fabulous Jumeirah Beach and many of Dubai's attractions. 
Be seen as you saunter along Dubai's most glamorous and cosmopolitan leisure and retail promenade, The Walk, and get to dine at no less than seven award-winning dining spots, including JB's gastropub, Rosso Italian restaurant and Benihana. 
Spend afternoons rejuvenating in the hotel's luxury massage rooms, before Lazing by the outdoor swimming pool adjacent to the blue waters of Jumeirah Beach.
Another brilliant city waiting to be explored is further south in the UAE. 
The country's capital, Abu Dhabi is known the world over for its cultural and heritage landmarks. At the very centre of this bustling capital is Beach Rotana, Abu Dhabi. 
Located on a busy thoroughfare on one side, step inside and peace and tranquillity reign as the hotel opens onto its own beachside location with its very own Beach Club filled with extensive leisure facilities. 
Shopportunities await at the adjacent Abu Dhabi Mall, and to relax, head to Zen the Spa with 10 treatment rooms and two tranquillity suites, but not before sampling the international fare at the hotel's nine popular dining venues. 
Pining for the countryside yet the trappings of the city?
Then head to Al Ain Rotana, located in Abu Dhabi's Garden City where lush nature, historical gems and the UNESCO World Heritage site of Al Ain Oasis await within the shadow of the mighty Jebel Hafeet. 
There are shopportunities in the homely city centre, but you'll want to dine at the hotel's six award-winning restaurants, rejuvenate at the luxurious Zen the Spa, laze by the pool or play some sports. 
---
To book your perfect Rotana staycay, visit rotana.com/offers/26521