Bringing a French spin on the classic British afternoon tea, Chef Hugo presents Le Goûter against the backdrop of the Louvre in the capital.
PARTNER CONTENT: An afternoon tea infused with a touch of French? Sign us up!
A brand-new culinary experience comes to Fouquet's Abu Dhabi with Le Goûter. Literally translated, it means 'to taste' in French, and promises a symphony of flavours. Bringing the ancient custom from the streets of Paris to the sun-kissed UAE capital, the restaurant has prepared a splendid array of sweet desserts.
From 3pm to 6pm every day except Monday, the menu can be savoured alongside tea and coffee, or even a glass of bubbles with an additional charge.
Executive Pastry Chef Hugo has carefully curated each masterpiece, served within a beautiful decorative box. Inspired by the restaurant's stunning setting at the Louvre Abu Dhabi, each delectable cake, pastry and chocolate reflects the theme of the museum's monumental exhibition 'Impressionism: Pathways to Modernity'.
Served under Jean Nouvel's world-famous dome, the spread spans elegant creations such as raspberry and lychee macarons, hazelnut madeleines, tarte au citron and more authentic French indulgences.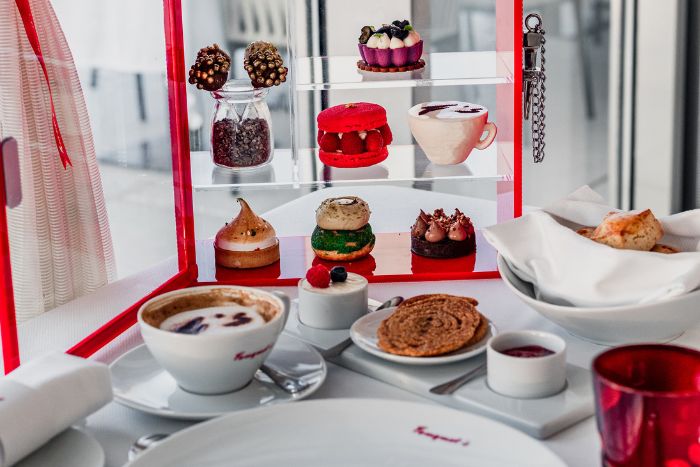 Guests are encouraged to sit back and take in the gorgeous vistas as they sample the amazing talents of Chef Hugo and his award-winning team. The sensational nibbles are crafted using only premium-quality ingredients, resulting in light and airy freshly baked scones, chocolate caramel tarts, pistachio choux, blueberry cheesecake and a lot more.
An undoubtedly unforgettable highlight, however, remains the unforgettable 'La Tasse de Chocolat'. This decadent cappuccino-infused chocolate mirrors the iconic 19th-century painting created by Pierre-Auguste Renoir. As one of France's most famous artists, the moving piece is a globally-renowned cornerstone of the Louvre Abu Dhabi's outstanding collection.
Further enhancing the picturesque journey, the afternoon par-tea wouldn't be complete without a wide selection of fresh loose-leaf teas and smooth barista coffees. Those really looking to elevate the occasion are invited to celebrate with a glass of premium bubbly.
Whether you elect to dine in the chic dining room, or out in the cool winter weather by the terrace's spectacular panoramic views of the Arabian Gulf and city skyline, the 'Le Goûter at Fouquet's Abu Dhabi is a truly unique culinary journey.
For bookings, please call 02 205 4200 or email [email protected]
Follow Yalla – Abu Dhabi Life  for all the latest news across the capital and beyond
Image source Fouqet's Abu Dhabi