Rein-ing supreme with an impressive festive calendar planned out, here's where you come for all things Christmas and New Year.
PARTNER CONTENT: The month of festive is nearly upon us, and the merry elves at Marriott Downtown Abu Dhabi have been busy transforming the place into a Winter Wonderland.
From Turkey Takeaways to Christmas and New Year's offerings, there's plenty to look forward to. With a superb series of festive events for both the young and the old, this is the hotel to be at for a jolly good time this season.
Christmas Tree Lighting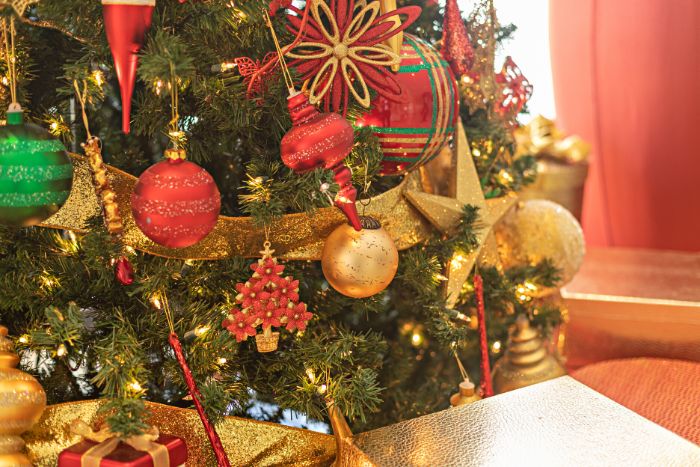 Keep yourself free on 5 December, with the hotel switching on the lights to the mighty Christmas tree that will take its pride of place in the main lobby. Starting 5.30pm, enjoy delicious nibbles and drinks as you admire the twinkling golden lights set atop lush, green branches.
Gingerbread Workshop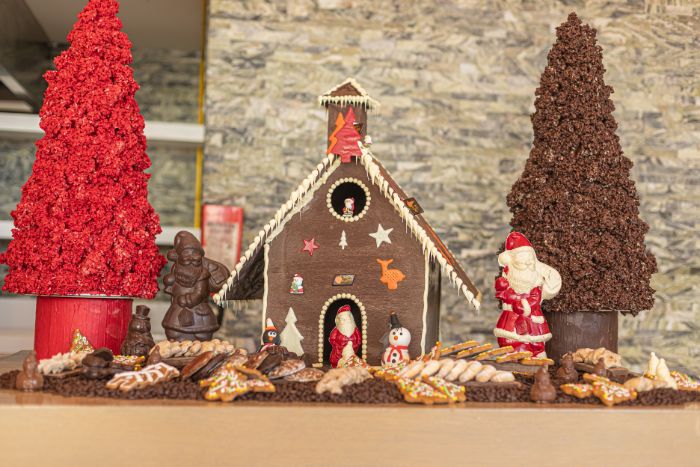 The entire family can express their dreams and creativity through the perfect gingerbread house. Every Saturday and Sunday in December (except 25 December), build and decorate your own home inside the hotel's life-sized Gingerbread House. With the hotel's pastry chefs around to guide you from 3pm to 6pm, it's just AED 150 per child to take home a sweet souvenir.
Festive Afternoon Tea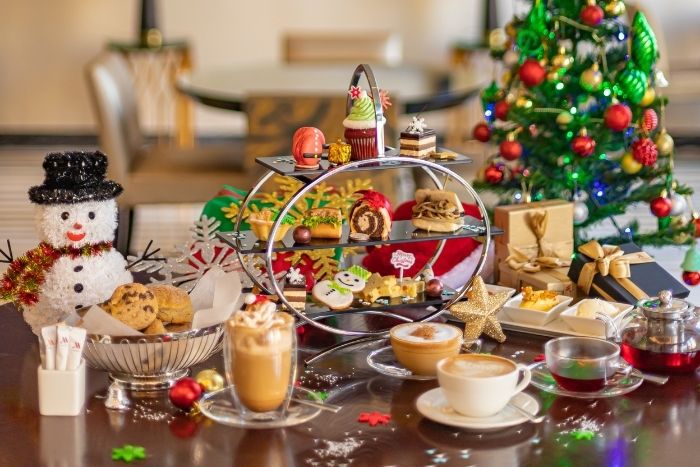 From 1-30 December, head to the Central Grounds this Yuletide as the delightful afternoon tea gets into the season. From 1pm to 4pm, indulge in a delectable array of sweet and savoury favourites. Priced at AED 120 for two people, there's a spread of moreish minced pies, festive cookies, gingerbread, orange yule log, cinnamon scones, stollen, and red current macaroons alongside unlimited festive tea and coffee.
KUZBARA
Christmas Eve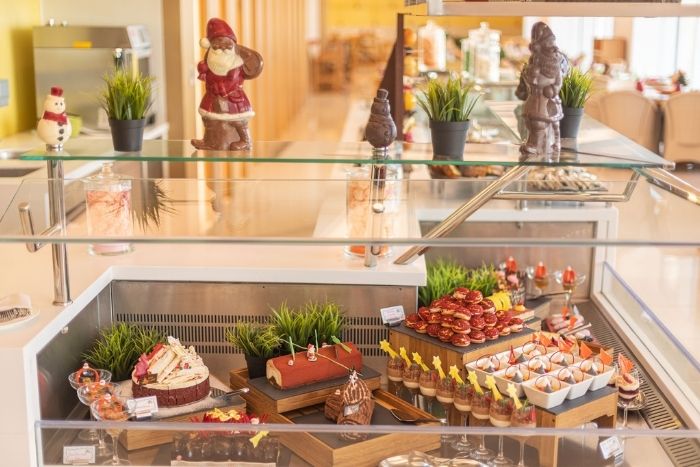 Start your Christmas with family and festive cheer at Kuzbara. Indulge in a delicious buffet from 6.30pm to 11pm, full of international cuisine and live cooking stations. That aside, there's plenty of traditional fare including mulled grape, appetisers, soups, roasted leg of lamb, vegetables, kebabs, dark chocolate yule log and more. Making things better is a sweet 30 per cent discount on bookings made before 10 December!
Price: AED 175 – soft drinks package (per person)
AED 295 – house drinks package (per person)
AED 85 – (children 6-11 years)
Christmas Day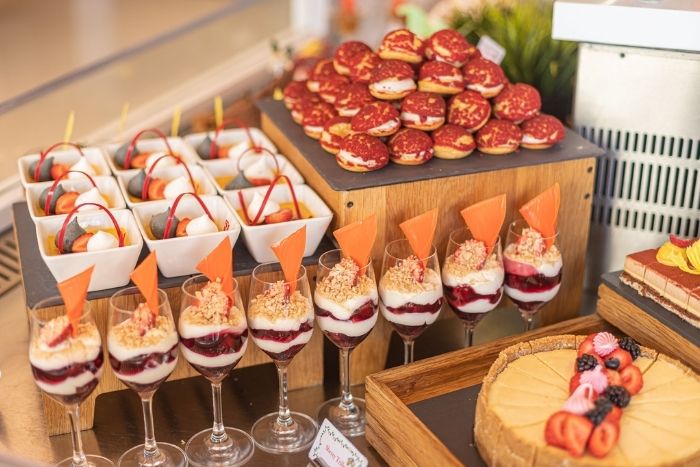 It's an unparalleled culinary trip up for grabs with the festive-inspired AUH Brunch. Offering a superb spread, stamp your festive food passport with delicious sushi, sumptuous satay, hearty carvery, Indian delights and more. From 12.30pm to 4pm, eat to your heart's content and ultimately satisfy your quivering sweet tooth with a fantastic selection of cakes, macarons and cupcakes and of course, Christmas Pudding and mulled grape. Here too, there's a sweet 30 per cent discount on bookings made before 10 December!
Price: AED 295 – soft drinks package
AED 455 – house drinks package
AED 555 per person, premium beverage
AED 110 (children aged 6-11 years)
New Year's Eve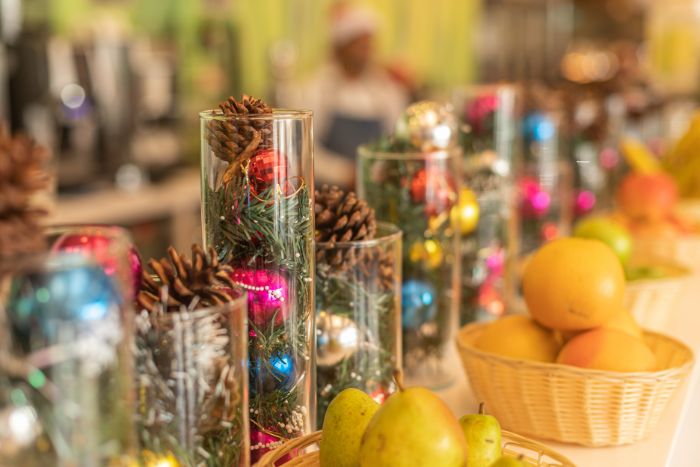 The same restaurant can also fly you into 2023 with The AUH Brunch. From 6.30pm to midnight, explore the gastronomic galaxy with incredible servings of food from South-East Asia, India, Mexico, France and more. And as the clock gets ready to strike midnight, toast 2022 with our Kuzbara countdown. Don't forget to book before 10 December for that 30 per cent discount!
Price: AED 295 – soft drinks package
AED 455 – house drinks package
AED 555 – premium drinks package
AED 110 – Children 6-11 years
AT25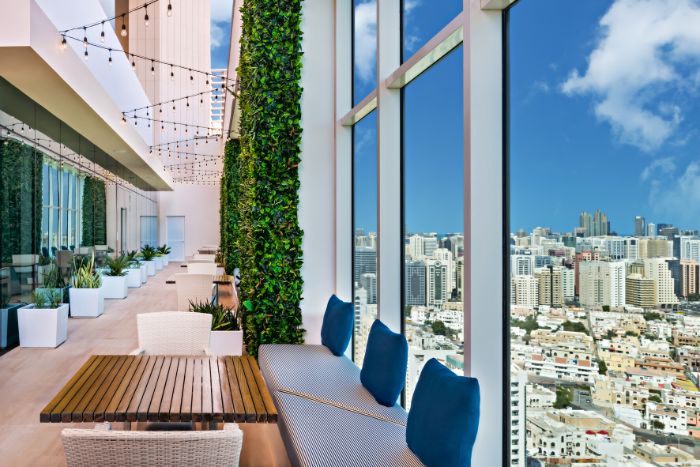 Give the New Year festivities a much-needed upgrade at AT25 from 8pm to 3.30am. Say goodbye to 2022 in style, with a live DJ, impressively crafted mixed drinks, a refreshing atmosphere and a countdown to the New Year at your favourite downtown rooftop bar.
Price: AED 150 – 3 house drinks
Turkey Takeaway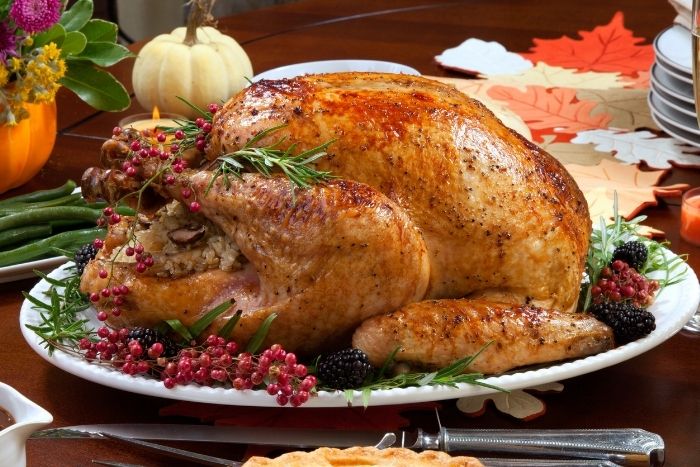 This Festive Turkey Takeaway from the hotel's Central Grounds allows you to savour the expertise of one of the best culinary teams in town in your own home. Tuck into a perfectly cooked turkey, served with traditional apple bread and sage stuffing, cranberry sauce, delicious gravy and a choice of three appetising sides.
24 November to 30 December
AED 525 – 5-6kg (serves 6-8 people)
AED 695 – 8-9kg (serves 10-12 people)
For more information, please call 02 304 7777 or visit Marriott Downtown Abu Dhabi 
Follow Yalla – Abu Dhabi Life for all the latest news across the capital and beyond
Image source Marriott Downtown Abu Dhabi, Canva