The Zemanna expo at Manarat Al Saadiyat is an absolute blast so make sure not to miss it.
Head to the 1990s at the Zemanna exhibition at Manarat Al Saadiyat.
Halla Walla! sounds out from the parked, gleaming red 1990's Nissan Patrol well before you reach the entrance to Manarat Al Saadiyat. Artist Jumairy's interactive sound sculpture entitled THE MISSION: HALLA WALLA! is inspired by the United Arab Emirates' 'car cruising culture' and the cartoon Bumpety Boo.
Zemanna is replaying the '90s.
It offers a chance to either rediscover or explore for the first time a decade of change, flux and expansion in Abu Dhabi and the United Arab Emirates as a whole.
Wandering through the various rooms to the sounds of the West's '90s boy band, Back street boys and Arab singers of the time, Saudi's Rashed Al-Majed and Abdul Majeed Abdullah, is strangely familiar as the role of pop culture and media play out through nine, interactive installations by 10 artists.
For expat children who were toddlers in the '90s, one installation VAADAKA, provides the chance to go back in time as you enter two rooms that showcase the recent history of artist Sree's parents.
The installation captures a moment in time of a family living in one room where artefacts of the '90s are scattered around to provide poignant mémoires.
Even if you were not in United Arab Emirates during this decade, it is more than likely that you are familiar with the Volcano Fountain, or Al burkan in Arabic; a prominent landmark that once stood on Abu Dhabi Corniche.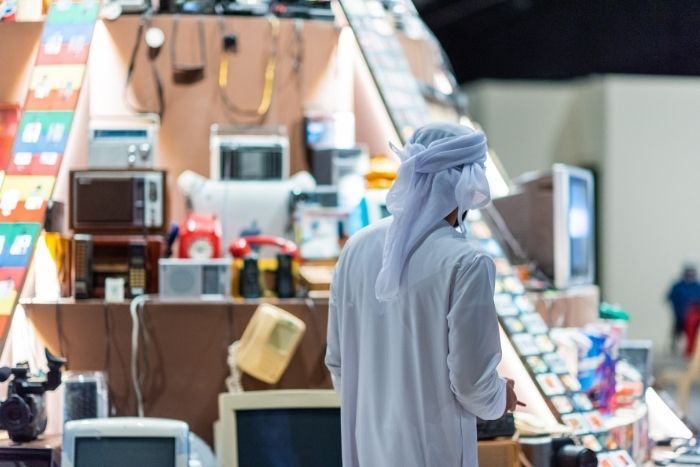 Al Burkan, the installation's name and by Emirati artist Fadel Al Mheiri, is filled with everyday items from the '90s, which were then considered modern are distinctively vintage now, include Sony Walkman, plastic lunch boxes, sticker books, comics and football boots, to name just a few.
Emirati artist Alaa Edris is famed for artwork wrought from photography, film and performance to enact experimental mappings and manipulations of her social and urban environment. Her work has been presented in exhibitions across the region and internationally, and Zemanna offers a chance to view her work here in the capital.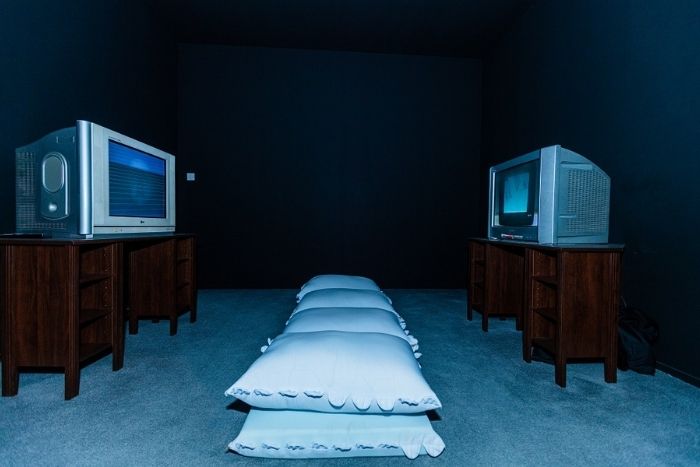 For Team Yalla, her installation, DISH, is, perhaps, the one that reflects the '90s childhood so well. A woman projected on a wall of a living room stares blankly towards another wall where TV scenes play out. It was the decade of the satellite dish, which provided a window into what was rapidly becoming a globalised world.
News, culture, music and entertainment shows beyond the local channels were now accessible. It was revolutionary at the time and was fraught with some cultural resistance. For many, it signalled freedom, albeit through a TV screen at home.
There are nine installations in total, all of which address the remnants of the 1990s and how they have contributed to the present time.
If you have not visited this brilliant exhibition yet, make sure you do before it closes in June 2022.
For opening times and more information, visit manaratalsaadiyat.ae
Image source  Manarat al Saadiyat